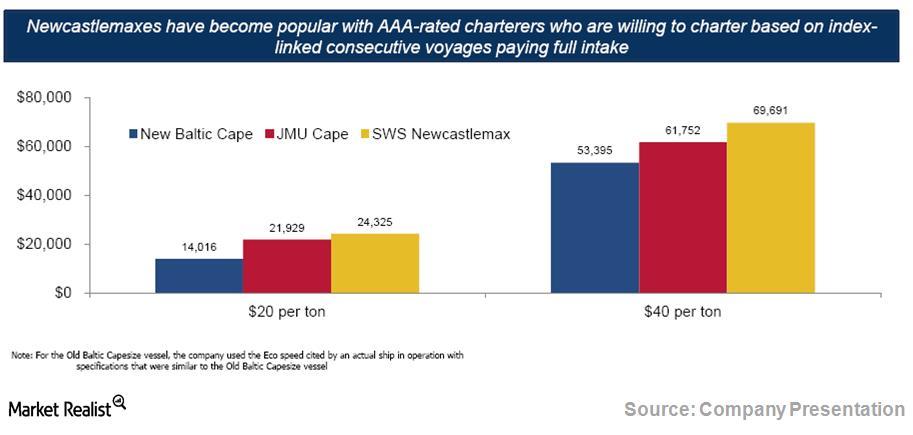 Star Bulk eco fleet and Newcastlemax vessels a benefit for the company
Newcastlemax vessels
Newcastlemax vessels offer significant commercial benefits for charterers. Portoperations efficiency is attained due to the reduction of bottlenecks and congestion, and there is an increase in export volumes. Newcastlemax vessels are larger in size and have the capacity to carry larger amounts of dry bulk at a cost similar to smaller vessels that carry lesser quantities. By using Newcastlemax vessels, Star Bulk Carriers Corporation (SBLK) experiences a significant reduction of dollar per ton cost on major routes during a high bunker environment.
Article continues below advertisement
In order to achieve a time charter equivalent of $31,000 per day, the Newcastlemax vessels require the following rates on the specified routes. On the Brazil-China round voyage, ~$23.5 per ton versus $27.8 per ton for the New Baltic Capesize. On the Australia-China round voyage, ~$9.5 per ton versus $10.8 per ton for the New Baltic Capesize.
Star Bulk maintains its eco focus
More than 57% of the value of Star Bulk's (SBLK) combined fleet is fuel efficient. Savings are higher on larger intake vessels with up to 25% of bunker fuel savings, depending on vessel size.
Eco benefits
Eco vessels are used for reduced fuel and lubricant consumption and also to allow super slow steaming. Despite having a high acquisition cost, the benefits that eco vessels provide lead to a trade-off with the high vessel prices. The average cost per vessel for the acquired eco fleet stands at $18.6 million. Meanwhile, a new Japanese eco Newbuilding Kamsarmax average cost per vessel stands at $33 million, while the new Japanese eco Capesize is $62 million.
The benefits of eco are improving cash flow during a high-freight market and downside protection during a low-freight market. Adopting eco fleets is also beneficial to other peer companies like Diana Shipping Inc. (DSX), Knightsbridge Shipping Ltd (VLCCF), Navios Maritime Holdings (NM), and Eagle Bulk Shipping Inc. (EGLE). The Guggenheim Shipping exchange-traded fund (or ETF) (SEA) helps investors keep track of the shipping industry dynamics and is a tracker of the shipping companies.