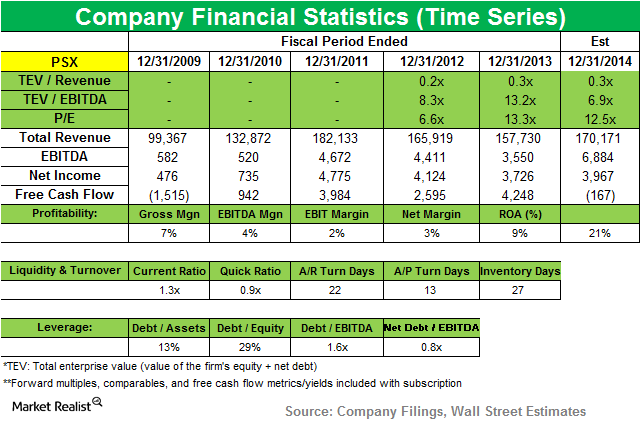 Soros Fund Management raises position in Phillips 66
Increased 3Q14 position in Phillips 66
Soros Fund Management upped its position in Phillips 66 (PSX) in the quarter ended on September 30, 2014. The position accounts for 1.44% of the fund's third quarter of 2014 portfolio. The fund currently owns 2,373,582 shares, up from 1,234,822 shares in 2Q14.
Article continues below advertisement
Overview of Phillips 66
Phillips 66 is a Texas-based energy company that focuses on refining, chemicals, midstream operations, and the marketing of refined and specialties products. Phillips 66 manufactures gasoline, distillates, jet fuel, asphalt, lubricants, petrochemicals, and other refined products.
Phillips 66 began operating independently as a publicly traded company on April 4, 2012, when it separated from ConocoPhillips. It has four primary operating segments: Midstream, Chemicals, Refining, and Marketing and Specialties.
Phillips 66's operations
In 2013, Phillips 66 formed Phillips 66 Partners (PSXP), a master limited partnership (or MLP) to operate its midstream functions such as crude oil and petroleum products transportation through pipelines and terminals. Phillips 66 owns the general partnership and 73% limited partnership of Phillips 66 Partners (PSXP). To learn more about MLPs, check out our articles in Master limited partnership (MLP) basics.
Phillips 66's (PSX) midstream segment includes 50% equity investment in DCP Midstream, LLC, a subsidiary of DCP Midstream Partners (DPM).
Phillips 66's chemical segment consists of 50% equity investment in Chevron Phillips Chemical Company LLC (or CPChem), which is a joint venture between Chevron Corporation (CVX) and Phillips Petroleum Company.
Phillips 66 (PSX) traded at ~$79 as of November 24. This is up ~6% year-to-date. Following the quarterly results released on October 29, 2014, its share dropped 1.5% from the previous day's close.
Article continues below advertisement
Lower crude oil prices, 3Q14 revenues
Phillips 66's revenues for 3Q14 fell 8% to $40.41 billion from $44.14 billion recorded in the year-ago quarter. This resulted primarily from 17% and 15% declines in revenues from its Refining and Midstream segment revenues, respectively. Net income was $1.18 billion, up 121% from $535 million recorded in 3Q13.
The surge in Phillips 66's net profit came largely from significant improvement in the Refining segment as well as from its Marketing and Specialties segment. The company said the increase was due to higher realized refining margins driven by lower crude prices. You can find more in-depth details on this and the 3Q earnings here.
Joint ventures, Malaysia refinery
Phillips 66 recently formed two joint ventures with Energy Transfer Partners and Energy Transfer Equity to develop the Dakota Access Pipeline (or DAPL) and Energy Transfer Crude Oil Pipeline (or ETCOP). Phillips 66 owns 25% interests in both projects and will spend approximately $1.2 billion to develop them.
Phillips 66 also recently sold its 47% stake in a Malaysian refinery to Malaysia state-owned oil and gas company Petronas for $635 million in cash.
For more on the refining industry and key stocks on the Market Realist website, please see The star stocks and stellar returns of the US refining industry.
Soros positions traded in 3Q14
During 3Q14, Soros Fund Management added positions in Alibaba Group Holding (BABA), Yahoo! (YHOO), Travelport Worldwide (TVPT), and Netflix, Inc. (NFLX). Top positions that saw an increase were Level 3 Communications, Inc. (LVLT), Dow Chemical Company (DOW), and Phillips 66 (PSX). Soros sold its stakes in Halliburton (HAL) and CONSOL Energy Inc (CNX), and reduced its position in Herbalife (HLF).
The next part of this series will examine the fund's position change in CONSOL Energy.