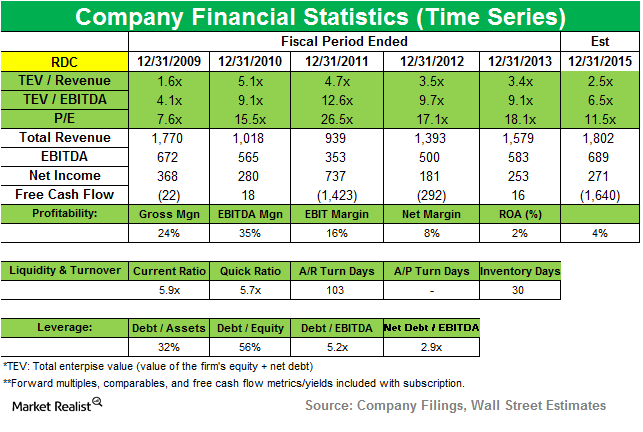 Rowan Companies sees activist interest from Blue Harbour
By Samantha Nielson

Nov. 26 2019, Updated 7:15 p.m. ET
Blue Harbour raises its stake in Rowan Companies

Clifton S. Robbins's Blue Harbour Group added new positions in Rackspace Hosting, Inc. (RAX) and AGCO Corporation (AGCO) in 2Q14 ended in June. It also raised positions in Akamai Technologies, Inc. (AKAM) and Babcock & Wilcox Company (BWC).
The fund exited positions in DeVry Education Group Inc. (DV) and Brocade Communications Systems, Inc. (BRCD). Since July, the fund has boosted its positions in Rowan Companies plc (RDC), Investors Bancorp, Inc. (ISBC), and Allscripts Healthcare Solutions, Inc. (MDRX).
Article continues below advertisement
Blue Harbour boosted its position in Rowan Companies plc (RDC) during the quarter. The position accounts for 6.22% of the fund's total portfolio in 2Q14. A 13D filing in July notes the fund raised its position in Rowan to 8,031,988 shares, from 5,030,239 shares at the end of June. The filing says Blue Harbour owns a 6.5% stake in Rowan, and that the shares were an attractive investment opportunity. Another amended 13D filing in September says the fund owns 9,783,812 shares and a 7.9% stake in Rowan.
Overview of Rowan Companies
Rowan Companies plc, or Rowan, is a global provider of contract drilling services in the ultra-deepwater and shallow water jack-up market. It has a fleet of 34 offshore drilling units, including four ultra-deepwater drillships— two of which are currently under construction—and 30 jack-up rigs, 19 of which are rated high-specification. All four of the company's ultra-deepwater drillships are currently under long-term contracts. Its first ultra-deepwater drillship, the Rowan Renaissance, commenced operations in the second quarter.
Article continues below advertisement
Rowan conducts offshore drilling operations in various markets throughout the world including the United Kingdom and Norwegian sectors of the North Sea, the Middle East, the United States Gulf of Mexico, Southeast Asia, West Africa, Trinidad, and Egypt. During 2013, Rowan generated revenues of $1.579 billion and operating income of $331.7 million.
Revenue growth driven by commencement of first ultra-deepwater drillship
Rowan said 2Q14 revenues were up 3% to $422.9 million from the prior-year quarter due to the commencement, in late April 2014, of the company's first ultra-deepwater drillship, Rowan Renaissance. Meanwhile, net income from continuing operations of $32.9 million, or $0.26 per share, was down from $82.8 million, or $0.67 per share in the second quarter of 2013. The decline was due to a non-cash asset impairment charge as well as the inclusion of an after-tax gain in the prior-year quarter.
Article continues below advertisement
Rowan said revenues and operating results were also significantly impacted by out-of-service periods. There was 13% out-of-service time during the second quarter of 2014, compared to 8% in the prior-year quarter.  The company said it expects the out-of-service time for its jack-up fleet to decrease significantly beginning in the third quarter. On the earnings call, management said, "Given that all four of our ultra-deepwater water drillships are now under contract, our deepwater position through mid-2017 is solid."
Trends in jack-up and ultra-deepwater markets
Management added that the company is facing "rates and oversupply pressures" in the jack-up market: "With influx of new supply, we are seeing downward pressure on both day rates and length of term in some operating regions."
In the ultra-deepwater market, Rowan is "seeing a continued erosion of leading-edge day rates." The company added, "The combination of high specification, supply additions, significant near-term contract rollovers from the existing fleet, and the moderating demand has created this current downward trend in the deepwater market."
The company expects an "eventual recovery" and the the supply-demand balance to swing back in its favor before the next contract rollovers beginning in 2017.
Fitch noted in a release in August that a "cyclical downturn in the offshore oil and gas-drilling market may provide an opportunity for drillers with financial flexibility to buy high-yield peers at favorable prices."