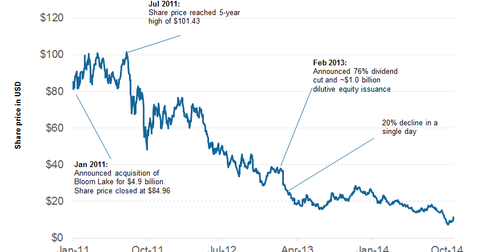 Why resolution of Bloom Lake is pressing for Cliffs
By Anuradha Garg

Updated
Bloom Lake
Of Cliffs Natural Resources Inc' (CLF) Eastern Canadian assets, the Bloom Lake (or BL) mine is the most troubled. BL was acquired as part of Cliffs' 2011 acquisition of Consolidated Thompson for $4.9 billion. To learn more about this acquisition, read Why Cliffs' Bloom Lake acquisition hurts its earnings and shares.
BL exceeded capital expenditure, or capex, and operating cost expectations, becoming a drag on already depressed earnings.
Initially, production at the mine was to be executed in two phases:
Phase I – Initial ramp up to production of six to seven million tons per year
Phase II – Double the initial ramp up to 14 million tons
Currently, Phase II is on hold while Phase I is continuing but on a reduced tailings-capital plan.
Bloom Lake options
Cliffs management won't go ahead with just Phase I, because insufficient volumes make it infeasible to do so on a stand-alone basis.
Article continues below advertisement
To develop Phase II, Cliffs needs capital of ~$1.2 billion—$450 million for construction and $750 million to operate the plant for several years. The company won't do this alone. So, Cliffs is targeting three equity partners to put in at least 10% equity participation each. In return, Cliffs will allow the partners to use the high-quality iron ore that BL will produce— that is, 66% iron versus the 62% benchmark.
Management is hopeful that on top of the 17% currently held by Wuhan Iron & Steel Company, the other minority equity holders would absorb the BL mine's entire production.
These investors are likely to be integrated steel players like Cliffs' partners in its U.S. iron ore operations. These include Arcelor Mittal (MT), AK Steel Holding Corporation (AKS), and Essar Steel. Other steel producers such as United States Steel Corporation (X) are also self-sufficient in iron ore supply.
If Cliffs can't find suitable investors, then it will idle the mine. A decision on the matter is expected before the year end.
We believe a scenario where Bloom Lake is operating at full capacity would be better than idling the mine completely. If management can find investors to contribute capital towards this end, it could be very positive for Cliffs' share price.
The SPDR S&P Metals and Mining ETF (XME) provides broad exposure to iron ore and steel sectors.