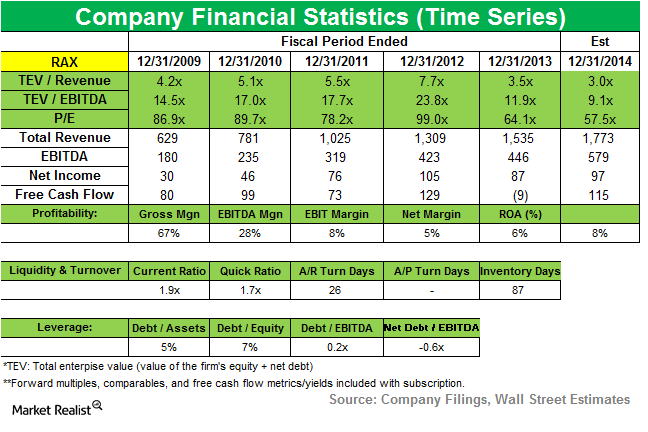 Rackspace Hosting sees activist interest from Blue Harbour
By Samantha Nielson

Nov. 20 2020, Updated 4:28 p.m. ET
Blue Harbour adds a new stake in Rackspace Hosting
Clifton S. Robbins's Blue Harbour Group added new positions in Rackspace Hosting, Inc. (RAX) and AGCO Corporation (AGCO) in 2Q14. It also raised positions in Akamai Technologies, Inc. (AKAM) and Babcock & Wilcox Company (BWC).
The fund exited positions in DeVry Education Group Inc. (DV) and Brocade Communications Systems, Inc. (BRCD). Since July, the fund has boosted its positions in Rowan Companies plc (RDC), Investors Bancorp, Inc. (ISBC), and Allscripts Healthcare Solutions, Inc. (MDRX).
Article continues below advertisement
Blue Harbour added a new stake in Rackspace Hosting Inc (RAX) at the end of the second quarter ended June. The position accounts for 4.60% of the fund's total portfolio. An August 13D filing reveals a 6.4% stake in Rackspace with 9,098,087 shares. The filing said the stock "represented an attractive investment opportunity."
Overview of Rackspace Hosting
Rackspace is a leader in managed cloud. It's the founder of OpenStack—the open-source operating system for the cloud. It offers a diverse portfolio of cloud computing services including public cloud, dedicated cloud, private cloud, and hybrid cloud. All of its services are committed to open technologies. The equipment—servers, routers, switches, firewalls, load balancers, cabinets, software, and wiring—required to deliver services is typically purchased and managed by the company. Rackspace is headquartered in San Antonio, Texas. It operates data centers on four continents.
Rackspace sees activist interest from Blue Harbour
Blue Harbour's August filing said the hedge fund plans to pursue discussions related to Rackspace's "business, management, capital structure and allocation, corporate governance, board composition and strategic alternatives and direction, and may take other steps seeking to bring about changes to increase shareholder value."
In May, Rackspace said it "has been approached by multiple parties who have expressed interest in exploring a strategic relationship with Rackspace, ranging from partnership to acquisition." The company hired Morgan Stanley "to evaluate the inbound strategic proposals and to explore other alternatives that could advance Rackspace's long-term strategy."
The company has seen investor concerns over increasing competition from technology companies including Amazon, Hewlett-Packard, Google, IBM, and Microsoft. These companies have made substantial investments in cloud-computing offerings and initiatives.
Rackspace gives up on efforts to find a buyer
Article continues below advertisement
In September, after months of speculation that Rackspace could be acquired by CenturyLink, Inc. (CTL) and had interest from Hewlett-Packard, the company said it was no longer exploring merger and acquisition options. On the contrary, the company declared its commitment to remain independent. A release stated, "Based on Rackspace's reaccelerated revenue growth and its potential trajectory for the coming year, the board concluded the company is best positioned to maximize shareholder value by executing its strategy as the #1 managed cloud company."
Rackspace also abandoned plans for a share buyback noting, "it is prudent to maintain flexibility at this time to ensure that the appropriate investments can be made to drive our strategy forward."
CEO change announced
The company also announced that president Taylor Rhodes will be the new chief executive officer and member of the board. Mr. Rhodes takes over from Graham Weston, co-founder and chairman of the board.
Revenue and earnings beat estimates, but margins decline
Net revenue for 2Q14 was $441 million—up 4.8% from the previous quarter and 17% from 2Q13. Net revenue was positively impacted by currency exchange rates. Net income was $22 million for the quarter—down 11.8% from the previous quarter and flat year-over-year.
The company added new customers during the quarter. Notable wins include WP Engine, WePay, and Zulily. Meanwhile, margins steadily declined. On the earnings call, management said, "Compared to the first quarter, second quarter profit margins were negatively impacted by higher headcount related cost, professional fees and software license expenses."
For the third quarter, Rackspace expects steady revenue growth of between 3% and 4.5%. This will result in total revenue of between $454 to $461 million. In terms of profitability, adjusted earnings before interest, taxes, depreciation, and amortization (or EBITDA) margins are forecast to be 31% to 33%.
For more on Rackspace competitors Hewlett-Packard, IBM, and Microsoft, visit Market Realist's Enterprise Software page.