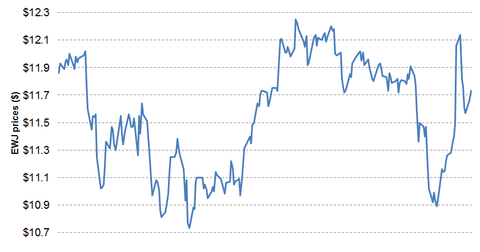 Investing in Japan: Learn to play in the land of the rising sun
By Heidi Richardson

Updated
If you're looking for a simple way to invest in Japan, we suggest keeping it simple with a low cost ETF. The iShares MSCI Japan ETF (EWJ) provides diversified access to large- and mid-cap Japanese stocks, including blue chips like Toyota, Honda, and Hitachi.
While our investment thesis on Japanese stocks is independent from currency movements, we realize that some investors may want to address currency risk. For those who expect future depreciation of the yen against the dollar, we suggest the iShares Currency Hedged MSCI Japan ETF (HEWJ).
Article continues below advertisement
Market Realist – The graph above shows the performance of the iShares MSCI Japan ETF (EWJ) this year. The ETF gives targeted access to almost 85% of Japanese equity markets and is the largest single-country ETF at present. EWJ has ticked up recently on account of announcements of Japan's Government Pension Investment Fund's surprise stimulus package and rebalancing.
Both short-term and long-term prospects for Japanese equities (EWJ) look good. Below are the pros and cons for investing in Japanese equities.
Pros
Japanese equities look attractive on the basis of relative valuation versus US (SPY)(IVV) and other global equities (QWLD), including Europe (EZU).
The central bank stimulus and rebalancing by pension funds are likely to keep buoying prices.
The increase in share buybacks is likely to support equity prices.
Earnings momentum could mean support for the equity markets.
The long-term prospects look bright, as the structural reforms and measures to strengthen corporate governance are likely to boost returns on equity.
Cons
The yen could face downward pressure with an unprecedented increase in geopolitical tensions.
If economic data remains weak, it could dampen the prospects of the second consumption tax hike due next year.
The decrease in approval ratings for Prime Minister Shinzo Abe could mean a difficult political environment. Japan has seen many a cabinet minister resign over campaign fund scandals. Slackening political support could get "Abenomics" reforms into trouble.
The key indicator to watch is GDP estimates for the third quarter, due to come out on November 18, 2014. Despite the risks, Japan looks to be a good investment opportunity.
Read our series Will the end of easy money in the US mean more stimulus elsewhere? to find out more about why the surprise stimulus makes Japan looks like a good investment opportunity.