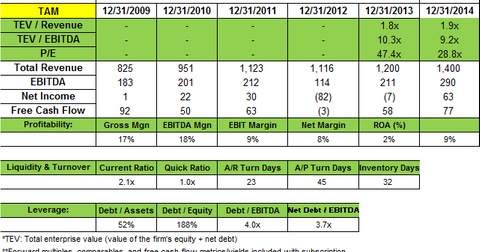 Paulson & Co. opens a position in chemical company Taminco
By Samantha Nielson

Updated
New position
Paulson & Co. took a new position in Taminco Corporation (TAM) in the quarter ended on September 30, 2014. The position accounts for 0.41% of the fund's third-quarter portfolio.
Article continues below advertisement
Overview of Taminco
Taminco is the world's largest integrated producer of alkylamines and alkylamine derivatives. Its products are used by customers in the manufacturing of products primarily for the agriculture, water treatment, personal and home care, animal nutrition, and oil and gas end markets. Its products provide these goods with a variety of ancillary characteristics required for optimal performance, such as neutralizing acidity and removing contaminants.
Taminco currently operates in 23 countries with eight production facilities. It's organized into three segments: Functional Amines, Specialty Amines, and Crop Protection.
During 1Q14, Taminco completed the acquisition of Kemira Oyj's formic acid business. The formic acid business has a global footprint. It serves a number of markets that are driven by key global megatrends, such as animal nutrition, agriculture, water treatment, and energy. Taminco said its entry into the formic acid market "continues its implementation of a long term strategy of accretive investment in niche businesses with strong outlooks, attractive end-markets, and high levels of similarities with its core competencies."
Article continues below advertisement
Taminco to be acquired by Eastman Chemical
In September, Taminco announced it's being acquired by Eastman Chemical Company (EMN) for $26.00 per share. The total transaction value is approximately $2.8 billion in cash. Management added that the acquisition will provide the company "with greater resources to pursue its ongoing long-term strategy of expansion into key markets and leveraging its existing skill set to expand into attractive new product lines."
Third-quarter results beat estimates
Taminco's 3Q14 net sales were $369 million, a 22% increase compared to $302 million in the corresponding period of 2013. It said its results were mainly driven by strong growth in Specialty Amines—particularly in personal and home care, water treatment and energy—and in Crop Protection.
The third quarter also included three months of contributions from the Formic Acid Solutions business. Diluted earnings per share were $0.43, up from $0.09 in the same period last year. Profit increased to $29 million. Its revenue and earnings beat street estimates.
Paulson & Co.'s other positions in 3Q14
Paulson & Co. added new positions in AbbVie Inc. (ABBV), PetSmart, Inc. (PETM), Alibaba Group Holding Ltd. (BABA), and Taminco Corporation (TAM). The fund also raised positions in Shire plc (SHPG), Covidien plc (COV), and Time Warner Cable Inc. (TWC). Notable exits during the quarter were from Thermo Fisher Scientific Inc. (TMO), Freeport-McMoRan Inc. (FCX), and CBS Corporation (CBS).
The next part of this series will review Paulson's position change in Covidien.