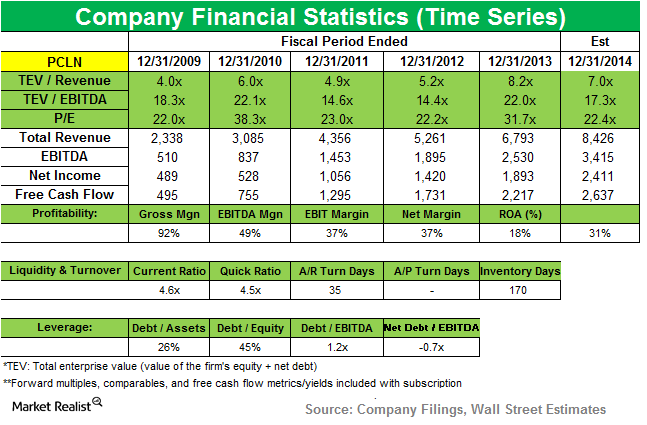 OTPP adds new position in The Priceline Group
By Samantha Nielson

Nov. 27 2019, Updated 2:54 p.m. ET
OTPP and The Priceline Group
The Ontario Teachers' Pension Plan (or OTPP) added a new position in The Priceline Group Inc. (PCLN) during the third quarter that ended in September. The position accounted for 0.50% of the fund's total portfolio.
Article continues below advertisement
Overview of Priceline
PCLN is a leading player in the online travel services industry. It has five primary brands. It also has several ancillary brands. The primary brands are:
Booking.com
Priceline.com
Agoda.com
KAYAK
Rentalcars.com
The online travel company offers accommodation reservations to consumers through its brands Booking.com, Priceline.com, and Agoda.com. It also offers reservations to consumers for rental cars, airline tickets, vacation packages, and cruises.
Consumers can easily compare airline ticket, hotel reservation, and rental car reservation information from hundreds of travel websites at once through KAYAK's websites and mobile applications. Priceline generates revenues through travel commissions, reservation booking fees, and online advertising.
Acquires OpenTable, invests in Chinese OTC Ctrip
In June, Priceline acquired OpenTable—a leading provider of online restaurant reservations—for $2.6 billion. The company said that the online restaurant reservation business will complement its online travel businesses. Priceline is the largest online travel agent in the US.
In August, Priceline said that it will invest $500 million in the Chinese online travel company (or OTC) Ctrip.com International. It will invest in Ctrip through a convertible bond. Under the deal, PCLN and Ctrip agreed to offer their respective hotel inventory to each other on an enlarged scale. They have more favorable partnership terms—including an agreement to enhance promotional efforts.
Reports noted that Priceline intends to expand its footprint in China. Currently, online travel is booming in China.
Article continues below advertisement
Bookings grew in 3Q14
Third quarter gross travel bookings for PCLN grew 28% year-over-year (or YoY) to $13.8 billion. Generally accepted accounting principles (or GAAP) net income was $1.1 billion, or $20.03 per diluted share. It was up from $833 million, or $15.72 per diluted share, in the same period last year. International gross bookings grew by 31.6%. They were driven by accommodation reservations for Booking.com and Agoda.com businesses. The gross bookings were also driven by growth in rental car day reservations.
Total revenues up, but merchant revenues decrease
Total revenue was $2.83 billion—up from $2.26 billion in 3Q13. Agency revenues—including travel commissions, global distribution system (or GDS) reservation booking fees related to certain travel services, travel insurance fees, and customer processing fees, grew 33.2%.
Merchant revenues fell 1.2% due to decreases in revenues from Priceline.com's "Name Your Own Price" hotel, rental car, and airline ticket reservation services. Advertising revenues—mainly from KAYAK and OpenTable—grew 70% to $123 million.
Article continues below advertisement
Shares fall after earnings announcement on disappointing outlook
Despite robust results, shares fell after the earnings announcement on a weaker-than-expected outlook for the fourth quarter. It forecasted adjusted earnings per share (or EPS) between $9.40 and $10.10. It said it expects a YoY increase in revenue of ~11%–18%.
Management said on the earnings call that "weakening economic conditions" in Europe and the currency issues are some of the concerns facing the company.
OTPP's other positions in 3Q14
As discussed earlier, OTPP added new positions in The Priceline Group Inc. (PCLN), XPO Logistics Inc. (XPO), United Technologies Corp. (UTX), Grupo Aval Acciones y Valores S.A. (AVAL), and Alibaba Group Holding (BABA). Top positions exited in 3Q14 were in Melco Crown Entertainment (MPEL) and HollyFrontier Corp. (HFC).
In the next part of this series, we'll discuss OTPP's new position in XPO Logistics.