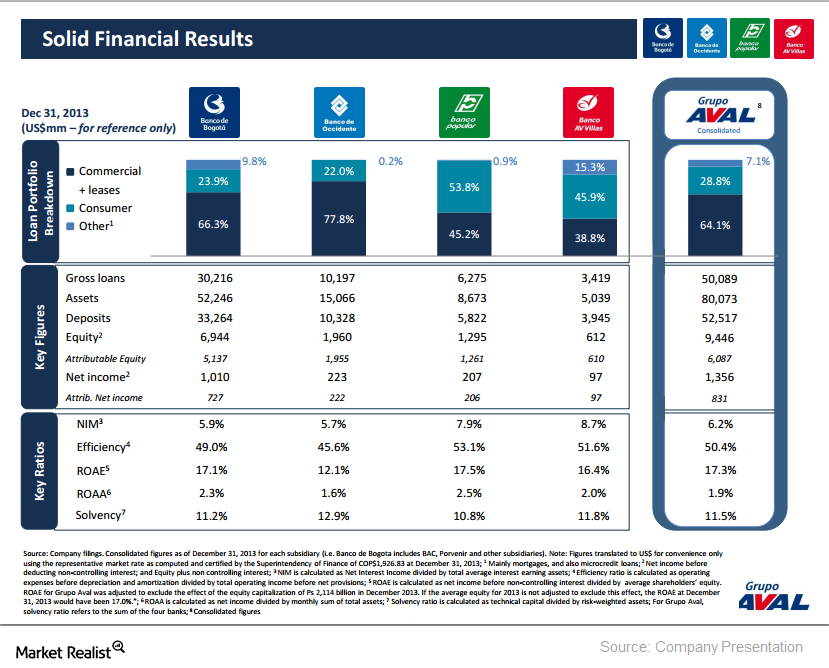 OTPP adds new position in Grupo Aval
OTPP and Grupo Aval
The Ontario Teachers' Pension Plan (or OTPP) added a new position in Grupo Aval Acciones y Valores S.A. (AVAL) during the third quarter that ended in September. The position accounted for 0.11% of the fund's total portfolio.
Article continues below advertisement
Overview of AVAL
AVAL is a Colombia-based banking group. It's controlled by billionaire Luis Carlos Sarmiento Angulo. AVAL is the largest banking group in Colombia and Central America—based on total assets. It provides a comprehensive range of financial services and products ranging from traditional banking services—like offering loans and creating deposits—to pension and severance fund management.
Currently, AVAL's operations in Colombia consist of four commercial banks:
Banco de Bogotá
Banco de Occidente
Banco Popular
Banco AV Villas
It also includes the largest pension and severance fund manager—Porvenir—and the largest merchant bank—Corficolombiana. The company's initial public offering (or IPO) filing said Sarmiento Angulo beneficially owns 95.9% of its common shares and 60.8% of its preferred shares as of September 4, 2014.
The company's IPO filing said it believes that Colombia's financial system presents significant growth potential. It has favorable economic conditions and a low penetration rate for banking and financial services—compared to other countries in the Latin American region like Brazil and Chile. It said it has a market-leading share of 31.6% of commercial loans and 28.1% of consumer loans in the Colombian banking market as of June 30, 2014. It also has a 30% market share of deposits as of June 30, 2014.
Article continues below advertisement
AVAL sees US trading debut in September
The group saw its IPO in September. It offered 81,481,481 ADS at an initial public offering price of $13.50 per ADS. Each ADS represented 20 preferred shares of the company.
The group raised $1.26 billion from its IPO in New York. This was more than its expectations of $1.06 billion. It said it will use the net proceeds from the offering to increase capital in its banking subsidiaries—mainly Banco de Bogotá. It will use the rest for general corporate purposes.
OTPP's other positions in 3Q14
As discussed earlier, OTPP added new positions in The Priceline Group Inc. (PCLN), XPO Logistics Inc. (XPO), United Technologies Corp. (UTX), Grupo Aval Acciones y Valores S.A. (AVAL), and Alibaba Group Holding (BABA). Top positions exited in 3Q14 were in Melco Crown Entertainment (MPEL) and HollyFrontier Corp. (HFC).
In the next part of this series, we'll discuss OTPP's new position in Alibaba Group.