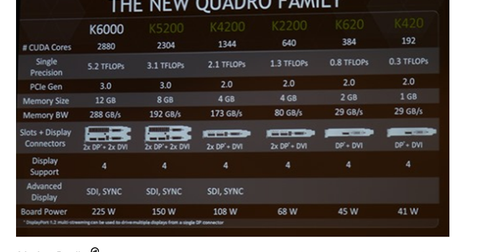 Why NVIDIA Quadro is a key growth area
By Anne Shields

Updated
Quadro overview
NVIDIA's (NVDA) Quadro refers to professional graphics cards, or graphics processing units (or GPUs), that are targeted towards professionals working in computer-aided design, video editing, special effects, and related applications.
This segment's performance is usually positively related to the economy. As the global economy improves, business spending will start to increase. This will boost Quadro sales. NVIDIA's Quadro graphics and Tesla GPUs form the professional GPUs. In fiscal year 2014, professional GPUs increased 10%.
Article continues below advertisement
Leader in workstation graphics
According to Jon Peddie Research, NVIDIA dominates the workstation graphics market. It has 81% market share. AMD (AMD) has 18% market share. The remaining 1% belongs to others. According to AnimationXpress, for the last six years, every film nominated for the Academy Award for Best Visual Effects has been made with Quadro technology.
As a result of its improved features, Quadro is preferred by automotive designers worldwide.
New Quadro GPUs launched specifically for creative design market
In September 2014, NVIDIA unveiled its next generation of NVIDIA Quadro GPUs. It included the K6000, K5200, K4200, K2200, K620, and K420, as the above chart shows.
Its flagship K6000 has extremely low power consumption at only 225W. The new Quadro GPUs are claimed to make the editing process much faster, more efficient, and almost real time. This gives creative and design professionals more time and flexibility. It's expected to meet the visual computing needs of the world's leading designers, artists, and scientists.
Quadro graphics cards' users have the option to purchase workstations from other players including Dell, HP (HPQ), and Apple (AAPL) Mac Pro. At the launch of these graphics cards, it was shown how NVIDIA GPU accelerates Adobe (ADBE) Illustrator.