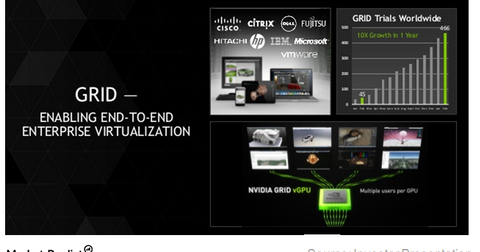 NVIDIA plans to offer cloud-based gaming with GRID
By Anne Shields

Updated
Console-like quality through cloud-based gaming
In cloud-based gaming, NVIDIA (NVDA) uses GRID servers. The GRID servers use the company's K520 graphics processing units (or GPUs). Then, they're connected to the Amazon (AMZN) Cloud Services. They're also connected to a home router through the Internet service provider (or ISP).
The heavy-lifting game processing takes place on these GRID gaming servers. Then, it's compressed and sent to a client device—like the SHIELD tablet. Through GRID's gaming services, NVIDIA plans to employ the same technology that it did with SHIELD. It will be built on Google's (GOOGL) Android operating system through cloud.
Article continues below advertisement
GRID provides robust hardware and software infrastructure
NVIDIA's Kepler GPU has circuitry-supporting hardware virtualization. NVIDIA's VGX Hypervisor software functions as a virtual machine (or VM) for both CPU and GPUs. It allocates virtual GPUs from the physical GPUs. Load-balancing algorithms let VGX Hypervisor allocate parts of a physical GPU or CPU. It allows one graphics chip to support several users—depending on the overall performance that needs to be delivered.
A stack of 20 GRID servers is approximately equivalent to 700 Microsoft (MSFT) Xbox 360s. However, it consumes 80% less power. NVIDIA claims that GRID is its first complete system product that puts the company in the same league as HP (HPQ) and Dell. HPQ and Dell also offer graphics servers that are based on NVIDIA technology. The above chart shows the key customers and trials worldwide.
Improved features to expand cloud-based gaming
NVIDIA states that its GRID technology improves lag and shortens the amount of time required to load a game—compared to other console vendors' services. NVIDIA claims that these improvements would go a long way to remove a major stumbling block that limits the adoption of these services.
Sony's PlayStation, Microsoft's Xbox, and Nintendo are other leading players in the console and gaming space.