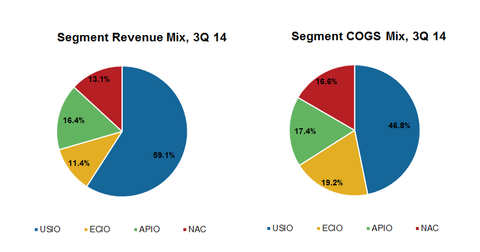 Must-know: An overview of Cliffs Natural Resources' 3Q14 earnings
By Anuradha Garg

Updated
3Q14 earnings overview
Cliffs Natural Resources Inc (CLF) 3Q14 results were positive on many levels. Numbers largely reflected weaker commodity prices. The company reported an underlying loss of $33 million, or $0.21 per share, adjusted for several one-off costs and impairment charges. The company's revenue was down 16% year-over-year due to a 32% reduction in iron ore prices and a 17% reduction in the market price of metallurgical coal. These market price reductions were offset by higher volumes.
Article continues below advertisement
Cost of goods sold decreased by 2% to $1.2 billion due to the idling of the Wabush Scully mine and operational efficiencies. The company also reported an after-tax $5.7 billion impairment charge pertaining to the assets of its Eastern Canadian Iron Ore, Asia Pacific Iron Ore, and North American Coal operations. The impairment charge is largely due to Cliffs' revised outlook for long-term pricing trends and the adverse market conditions for seaborne iron ore and metallurgical coal. Its net-debt came in at $2.75 billion, which is a reduction of ~100 million compared to 2Q14.
Earnings call key takeaways 
During the earnings call, management made several positive comments regarding the outlook for its non-core assets. First, there'll be no "fire sale" of the company's assets. Second, there'll be resolution of the Bloom Lake mine by year end. And third, several cost-cutting initiatives will improve the company's position. We'll describe these in detail later in this series. Before that, we'll describe what the company does and through which segments it operates.
Cliffs Natural Resources
Cliffs Natural Resources, or Cliffs, is primarily an iron ore producer. A small percentage of its revenues are derived from the sale of metallurgical coal. Both iron ore and coal are key raw materials for producing steel.
The company produces close to 46% of North America's iron ore pellets. Pellets are produced by agglomeration and thermal treatment, with grades ranging between 67% and 72% iron supply.
Cliffs has operations in the United States, Eastern Canada, and Australia. Iron ore accounts for the bulk of the company's production and earnings. In 3Q14, iron ore contributed 87% of the company's total sales value. The remaining 14% came from coal sales. Of the various iron ore sub-divisions, U.S. iron ore production remains the key driver of Cliffs' earnings before interest, taxes, depreciation, and amortization (or EBITDA).
Cliffs' key segments
Cliffs' segments are mainly organized by product and geography:
U.S. iron ore
Eastern Canadian iron ore
Asia-Pacific iron ore
North American coal
We'll discuss performance by segment in a subsequent parts of this series.
In iron ore and coal markets, Cliffs' main competitors are Rio Tinto (RIO), BHP Billiton Limited (BHP), Alpha Natural Resources, Inc. (ANR) and Vale SA (VALE). Cliffs makes up 2.46% of the SPDR S&P Metals & Mining ETF (XME), which provides broad exposure to the iron ore industry.