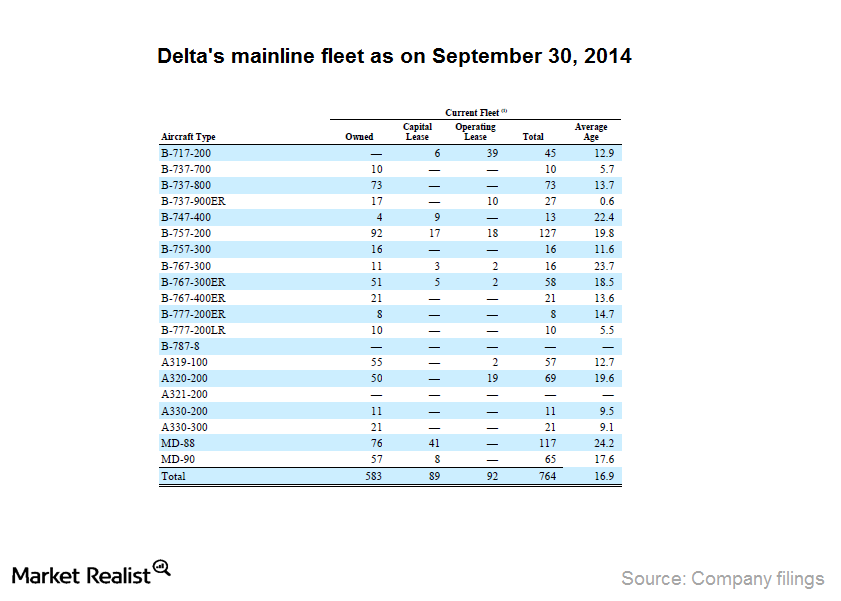 Must-know: Delta's fleet restructuring and capacity growth plans
Fleet restructuring
In the previous parts in this series, we discussed Delta's (DAL) 3Q14 operations in terms of growth in revenue, expenses, and profitability. In this part of the series, we'll see how Delta is managing its fleet to make its operations more profitable.
Fleet restructuring is an important part of Delta's cost reduction initiatives. Delta is replacing its 50-seat regional fleet with more efficient CRJ-900 and B-717-200 aircraft. It also plans to replace less cost effective B-757-200 aircraft with B-737-900ER aircraft.
According to this plan, during the quarter, Delta had 22 aircraft delivered. It retired 34 aircraft. Out of the 22 aircraft, eight were CRJ-900, nine were B-717-200, and five were B-757-200 aircraft. Out of the 34 aircraft that were retired, 24 were 50-seater aircraft.
According to management, this improved the company's operating leverage. It resulted in 2% higher domestic capacity year-to-date (or YTD), even though departures reduced by 4.5%.
The company estimates future charges for the 50-seat fleet restructuring to be $50–$150 million. Delta's total capacity growth during the quarter was ~3%—compared to United's (UAL) 0.5%, Alaska's (ALK) 8%, Southwest's (LUV) 1%, and JetBlue's (or JBLU) 4%.
The iShares Transportation Average ETF (IYT) and the PowerShares DWA Consumer Cyclicals Momentum Portfolio (or PEZ) have more than 3% of their holdings in Delta Air Lines.
In the next part of the series, we'll discuss Delta's capacity expansion plans in the fourth quarter.
Article continues below advertisement