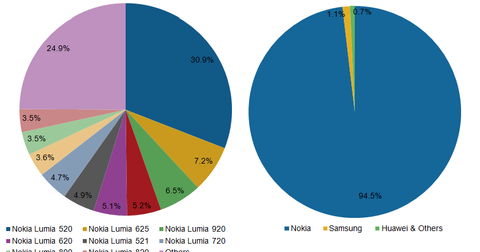 Why Microsoft rebranded Nokia and Windows Phones
By Anne Shields

Nov. 27 2019, Updated 2:19 a.m. ET
Nokia Lumia becomes Microsoft Lumia
In October 2014, Microsoft (MSFT) rebranded Nokia phones, including Lumia and Windows Phone devices, following its acquisition of Nokia in April 2014. Rebranding happened despite a mutual agreement between the two companies, with Microsoft using the Nokia brand name for the next 10 years. On social media, including Facebook, Inc. (FB) and Twitter, Inc. (TWTR), Microsoft stated that Nokia France was the first to adopt the new Lumia brand. The rebranding of all Nokia mobile devices in other countries is expected to happen in due course.
Nokia failed to live up to expectations in the rapidly evolving smartphone market
Article continues below advertisement
As mentioned in the earlier part of this series, Microsoft benefited from the Nokia acquisition in its hardware business as well as in its aim to expand its mobile operating system via various computing devices. Nokia, thought at one time to hold a dominant position in smartphones in emerging markets, failed to generate profits. Nokia's laid-back attitude in adapting to the rapidly changing mobile markets, coupled with intense competition, were the chief reasons for its downfall.
Microsoft (MSFT) stated that Nokia failed to generate the image of a smartphone maker in people's memories, which led Microsoft to rebrand the phones as Microsoft Lumia. Microsoft Lumia smartphones are expected to leverage the company's portfolio of services, including One Drive, Office 365, and Skype, to extend its presence in a high-growth, bring-your-own-device (or BYOD) market. As the above chart shows, Microsoft, through the Nokia acquisition, commands 94.5% of the Windows Phone 8 smartphones market.
Intense competition and new players have deeply impacted smartphone manufacturing companies' margins
Article continues below advertisement
Intense competition prevailing in the market has forced companies to repeatedly cut prices in order to retain market share. Samsung (SSNLF), which dominates Android smartphones, is witnessing its low-end mobile sets revenues being threatened by startup companies like Xiaomi, Huawei, and Micromax (India). These new companies provide customers with varied choices that beat established players' mobile sets on price, features, and popularity.
Before being bought out by Microsoft, Nokia faced a similar fate. It used to be a popular choice for customers in emerging markets. However, its low-cost smartphones provided very low margins, making it difficult for the company to sustain its mobile efforts. Blackberry (BBRY) and Ericsson (ERIC) continue to struggle in this space.