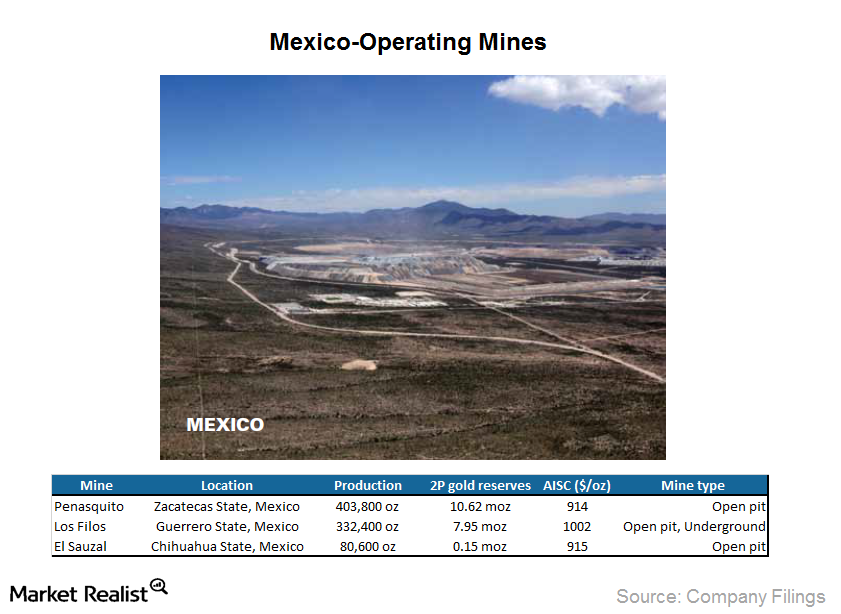 Goldcorp's production profile is decreasing in Mexico
Mexico's production profile is decreasing
Goldcorp (GG) has three operating mines in Mexico.
Peñasquito
Los Filos
El Sauzal
The three mines' production contributed to 32% of Goldcorp's group production.
Peñasquito – It's Mexico's largest producing mine. We'll discuss this mine and its economics in more detail in the next part of this series.
Los Filos – It's located in the Nukay mining district in central Guerrero state in southern Mexico. The ore body consists of iron-gold veins. It has minor amounts of copper and silver. It consists of two open-pit mines—Los Filos and El Bermejal. It also has one underground mine. The underground mine is a supplementary source of production at Los Filos. The open-pit mines and the underground mine share processing facilities. Its estimated mine life is 14 years. It had 7.95 million ounces in gold reserves and 54.52 million ounces in silver reserves as of December 2013.
El Sauzal – It's located in the Chihuahua state in Mexico. El Sauzal has been a reliable, low-cost gold producer. It's a conventional open-pit mine with mill operations. It had proven and probable reserves of 1.46 million ounces of gold as of December 2013. After pit wall instability was discovered in the Trini Pit, all of the mining operations were suspended on September 2, 2014. The decision was made to accelerate the closure activities beginning in 4Q14.
Management did a strategic review of several exploration properties in Mexico. Due to the depressed metal price environment and the impact of the tax reforms in Mexico, management decided to stop operations at some of its properties. This includes its Santo Domino and El Salitre assets.
Article continues below advertisement
There have been mine closures and suspensions across the board. The closures are due to lower gold prices. For example Iamgold (IAG) and AngloGold Ashanti (AU) closed a mine in Mali—in West Africa—due to unsustainable high costs and low gold prices. Barrick Gold (ABX) suspended operations at the Pascua-Lama mine due to unattractive mine economics at the current gold prices.
Lower gold prices are also negatively impacting exchange-traded funds (or ETFs) that invest in gold stocks—like the VanEck Vectors Gold Miners Index (GDX). Gold prices also impact physical gold-backed ETFs like the SPDR Gold Shares (GLD).