Mass market segment outperforms at Wynn Resort's Macau operation
By Shawn Bolton

Nov. 27 2019, Updated 2:06 p.m. ET
Mass table gaming
Table games in Wynn Resort's (WYNN) Macau operation are segregated into the VIP segment and the mass market segment.
On a quarter-over-quarter basis, mass market table wins increased by 5.2%. The table games wins in Q314 in the mass market segment increased by 36.4% year-over-year to $327.2 million.
Mass market table wins per unit per day increased by 38.0% year-over-year, to $17,759.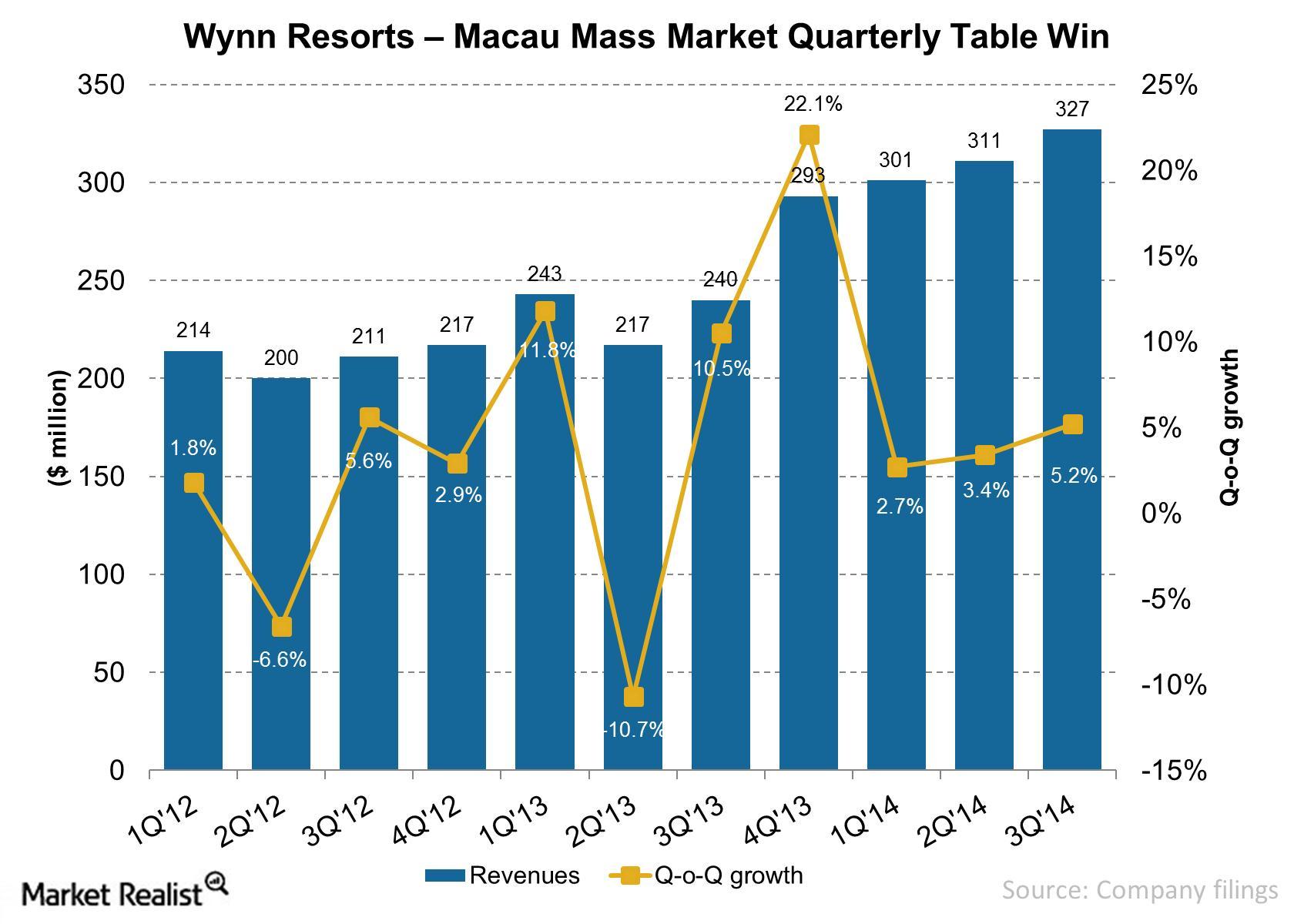 Drop in the mass market segment was $641.2 million, up by 1.7% year-over-year. The mass market segment's win percentage as a percentage of drop was 51% compared to 38% in Q313.
Note that table games win is the amount of drop that is retained and recorded as casino revenue. Drop is the amount of cash and net markers issued that are deposited in a gaming table's drop box.
Shift to mass market makes table wins increase
Article continues below advertisement
Mass market table wins increased due to a shift of gaming tables from the VIP to the mass market. Wynn Resort's (WYNN) Chairman and CEO Stephen A. Wynn said this would ensure that the tables are put to most profitable usage as done by other casino players, including Las Vegas Sands (LVS), MGM Resorts (MGM), and Melco Crown Entertainment (MPEL). You could gain exposure to the leisure industry by investing in exchange-traded funds (or ETFs) like Consumer Discretionary Select Sector Standard and Poors depositary receipt (or SPDR) fund (XLY).
Wynn Resort's president, Matthew O. Maddox, said, "In our mass market area our margins have been constant over the last three quarters. So give or take 100 basis points. So just in our mass area and premium mass area, we've seen our margins stabilize."
Continue reading to learn about why Wynn Resorts shines at Las Vegas.