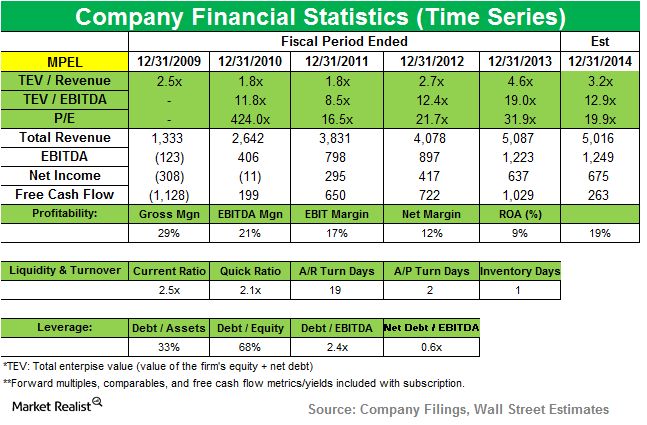 Luxor starts new position in Melco Crown Entertainment
By Samantha Nielson

Nov. 20 2020, Updated 11:38 a.m. ET
Luxor Capital added a new position in Melco Crown Entertainment
Christian Leone's Luxor Capital's top new positions for the quarter ending in June were Melco Crown Entertainment (MPEL), Yahoo Inc. (YHOO), and Constellation Brands, Inc. (STZ). Luxor's 13G and 13D filings since July revealed new positions in Orbitz Worldwide, Inc. (OWW), Overseas Shipholding Group (OSGB), and Eclipse Resources Corp. (ECR). The fund raised its stakes in RCS Capital (RCAP), BJ's Restaurants (BJRI), and Altisource Portfolio Solutions S.A. (ASPS), and took activist positions in Altisource Asset Management Corp. (AAMC) and Conn's, Inc. (CONN).
Luxor Capital added a new position in Melco Crown Entertainment (MPEL), which is a venture between Australian billionaire James Packer and Macau casino mogul Stanley Ho's son, Lawrence Ho. The stock accounted for 4.22% of the fund's portfolio for the quarter ending in June.
Overview of Melco Crown Entertainment

Article continues below advertisement
Melco Crown Entertainment is an owner and developer of casino gaming and entertainment resort facilities in Macau. It currently has two major casino-based operations, City of Dreams and Altira Macau. The company also has non-casino based operations at its Mocha Clubs. Melco is also developing a planned Studio City project, a cinematically themed retail and gaming resort, and a fifth hotel tower at City of Dreams in Cotai, Macau, which are expected to open in mid-2015 and early 2017, respectively.
In 2013, Macau generated approximately $45 billion of gaming revenues, according to the The Gaming Inspection and Coordination Bureau, representing an 18.6% increase from the comparable period of 2012. Melco said in its annual filing that "gaming revenue in Macau has increased at a five year CAGR from 2008 to 2013 of 27.10% compared to five year CAGRs of 1.18% and -8.99% for the Las Vegas Strip and Atlantic City, respectively (excluding sports book and race book)."
Legalization of casinos in Japan could be a growth catalyst
Article continues below advertisement
Reports in June of Japanese Prime Minister Shinzo Abe's comments about legalizing casinos in Japan boosted stocks in the casino space. Melco had revealed its intention to invest around $5 billion to open a casino in Japan. Newswires noted that the company is seeking partners for such a venture, which could also see a possible listing. Legalization could make Japan the second largest casino market after Macau in Asia.
Investor concerns regarding casino revenue growth in Macau also continued to impact stocks operating in the industry during June.
Stocks go higher despite fall in Macau gambling revenue in September

Hong Kong listed casino stocks were higher earlier this month despite gambling revenue in Macau declining 12% in September to $3.2 billion compared to revenue a year earlier, as per government sources. News reports noted that this was the biggest decline since June 2009. The reports said the fall in revenue might be due to a slowing economy, Chinese President Xi Jinping's crackdown on corruption, and pro-democracy demonstrations in Hong Kong that led to a lower number of visitors to Macau.
Analysts believe stocks gained because the weak revenue data was still slightly above expectations. Investors were also positive over news that the number of tourists to Macau during China's week-long National Day holiday increased.
2Q14 results miss estimates
Melco's net revenue for the second quarter of 2014 was $1.19 billion, down approximately 7% year-over-year. It said the fall in revenue was mainly due to lower group-wide rolling chip revenues. However, the company saw improved mass market table games revenues, especially at City of Dreams where revenues increased around 38% year-over-year.
Net income fell to $143.6 million, or $0.26 per American Depositary Share (or ADS), from $181.0 million, or $0.33 per ADS in 2Q13. The results missed analyst estimates.
Visit Market Realist's industry page, for more updates on casino and gaming stocks. The next part of this series will focus on Luxor's new position in technology giant Yahoo.