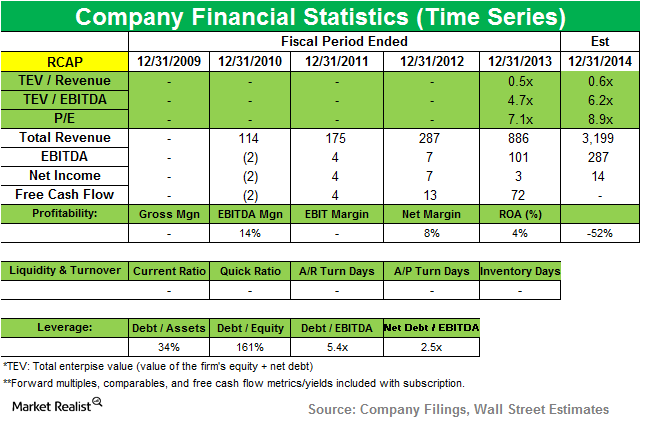 Luxor Capital ups stake in RCS Capital
By Samantha Nielson

Nov. 26 2019, Updated 6:45 p.m. ET
Luxor Capital raises its position in RCS Capital
Christian Leone's Luxor Capital's top new positions for the quarter ending in June were Melco Crown Entertainment (MPEL), Yahoo Inc. (YHOO), and Constellation Brands, Inc. (STZ). Luxor's 13G and 13D filings since July revealed new positions in Orbitz Worldwide, Inc. (OWW), Overseas Shipholding Group (OSGB), and Eclipse Resources Corp. (ECR). The fund raised its stakes in RCS Capital (RCAP), BJ's Restaurants (BJRI), and Altisource Portfolio Solutions S.A. (ASPS), and took activist positions in Altisource Asset Management Corp. (AAMC) and Conn's, Inc. (CONN).
Article continues below advertisement
Luxor Capital added to its position in RCS Capital Corp (RCAP). A 13G filing in July noted that the fund owns 24,345,355 shares, up from 24,000,857 shares at the beginning of June. The stake comprises common shares, convertible preferred stock, convertible notes, as well as shares issuable upon exercise of a Put/Call agreement. The filing said the fund owns a passive 9.9% stake in RCS Capital.
Luxor had disclosed an activist position in RCS in May and stated that the company's shares "were undervalued and represented an attractive investment opportunity."
Overview of RCS Capital
RCAP, which has a ~$1.24 billion market cap, is an investment firm that focuses on the retail investor. The company engages in the wholesale distribution, investment banking, and capital markets businesses.
In connection with the completed acquisitions of Cetera, Summit, J.P. Turner, Hatteras, and First Allied, the company restructured its principal segments to reflect the new business model. It now operates through its operating subsidiaries in six principal segments: independent retail advice, wholesale distribution, investment banking, capital markets and transaction management services, investment management, investment research, and corporate and other.
Article continues below advertisement
RCAP's pro forma revenues for the second quarter increased 22% from the first quarter to $825.7 million, and pro forma adjusted net income increased 12% quarter-over-quarter to $42.6 million, or $0.49 per fully diluted share. The company said strong operating performance across all business segments drove the company's growth.
Management changes
RCAP saw a management change recently with the appointment of president Michael Weil as its chief executive. Weil will succeed William Kahane, who will continue as a director. Bill Dwyer was appointed as chief executive of the RCAP unit Realty Capital Securities LLC.
Kahane noted in a release that, "since our inception in 2007, we've raised over $20 billion through the sale of over 30 direct investment programs to over 2 million investors, establishing our position as an industry-leading provider of investment advice and solutions to the mass affluent retail investor."
RCAP posts details on August equity sales and improvement in market share
In September, RCAP said it has delivered solid August sales of $816 million across its wholesale portfolio. Its wholesale distribution platform is the leading multi-product distributor of direct investment program offerings to independent broker-dealers and the retail financial advisor community.
RCAP expects $12 to $14 billion wholesale equity sales for 2014, including sales from Strategic Capital. The company said it saw additional selling agreements during the month, creating a selling group of approximately 370 firms with over 80,000 financial advisors.
Growth via acquisitions
Article continues below advertisement
In October, RCAP agreed to acquire Cole Capital Partners, LLC. and Cole Capital Advisors from American Realty Capital Properties, Inc. (ARCP) for $700 million plus contingent consideration. Cole Capital is the private capital management business of ARCP, which includes a broker-dealer, wholesale distribution, and a non-traded real estate investment trust, or REIT, sponsor, and advisory businesses.
In September, RCAP acquired a majority interest in Docupace Technologies, a provider of integrated electronic processing technologies and systems for financial institutions and wealth management firms.
RCAP also purchased independent broker-dealer Girard Securities. It finalized acquisitions of Strategic Capital Advisory Services, a provider of advisory and operational services to non-exchange traded alternative investment vehicles, and SC Distributors, LLC, a financial services distribution organization that focuses on alternative investment products.
RCAP launches crowdfunding investment platform
Another acquisition, Trupoly, Inc., a white-label investor relationship management portal, was integrated with RCAP's new crowdfunding investment platform, which launched in September. The platform provides investors direct access to high caliber, institutional quality public and private investment offerings.
The next part of this series will focus on Luxor's position increase in BJ's Restaurants.