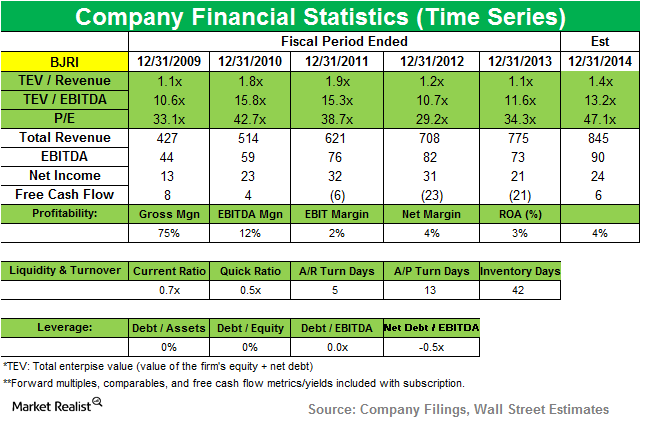 Luxor Capital adds to position in BJ's Restaurants
Luxor Capital raised its position in BJ's Restaurants
Christian Leone's Luxor Capital's top new positions for the quarter ending in June were Melco Crown Entertainment (MPEL), Yahoo Inc. (YHOO), and Constellation Brands, Inc. (STZ). Luxor's 13G and 13D filings since July revealed new positions in Orbitz Worldwide, Inc. (OWW), Overseas Shipholding Group (OSGB), and Eclipse Resources Corp. (ECR). The fund raised its stakes in RCS Capital (RCAP), BJ's Restaurants (BJRI), and Altisource Portfolio Solutions S.A. (ASPS), and took activist positions in Altisource Asset Management Corp. (AAMC) and Conn's, Inc. (CONN).
Luxor Capital added to its position in BJ's Restaurants (BJRI). An amended 13D filing in July noted that the fund owns 3,503,119 shares. This is up from the 3,203,119 shares at the end of 2Q14. The filing said the fund owns a 12.3% stake in BJ's Restaurants.
Overview of BJ's Restaurants
Article continues below advertisement
As of August 4, 2014, BJ's owned and operated 150 restaurants located in 18 states. Its restaurants operate under the BJ's Restaurant & Brewery, BJ's Restaurant & Brewhouse, BJ's Pizza & Grill, and BJ's Grill names. Since 1978, BJ's has expanded its concept from a small pizzeria to a full service casual dining restaurant with a broad menu, including appetizers, specialty salads, soups, hand tossed pizza, pastas, sandwiches, entrées and desserts.
In 1996, BJ's introduced its proprietary craft beers and the company believes they have added a unique dimension to the BJ's concept.
BJ's signature menu offering is its deep dish pizza, which was introduced in 1978. In fiscal 2013, total pizza sales represented approximately 14% of total restaurant sales.
Total revenues increased 9.4% to $775.1 million during fiscal 2013 but same-store sales fell 1.1 percent for the year due to a reduction in customer traffic.
Luxor Capital and PW Partners went activist on BJ's Restaurants in March
Luxor opened a position in BJ's in January, and it revealed an activist position in March. PW Partners Atlas Fund II LP in conjunction with Luxor Capital, which collectively own approximately 12.4% of BJ's, said in March that they intend to nominate five representatives to BJ's board at the companies' 2014 annual shareholders meeting.
In April, BJ's said it reached an agreement with Luxor and PW to nominate three new independent directors and also implement additional initiatives. The initiatives included a $50 million share repurchase authorization and a further expansion of the company's non-strategic cost optimization initiative.
BJ's shares up on robust earnings and revenue
For the latest 3Q14 quarter, BJ's total revenues increased 9.7% to $206.5 million. Net income rose 77.7% to $6.5 million while diluted EPS surged 76.9% to $0.23. Comparable restaurant sales increased 0.3%, driven by a 0.7% increase in guest counts and partially offset by a lower average check.
BJ's expands share buyback program
In August, BJ's board approved a $100 million increase to the company's share repurchase program first announced on April 22, 2014. The total authorized repurchase amount under the program is now $150 million. The management said in a statement that it is "committed to its long-term growth strategy of increasing restaurant operating weeks by at least 10% annually."
This year, BJ's opened six new restaurants with plans to open five more restaurants by year end. The company said its "current restaurant development pipeline is in excellent shape and we expect to open at least 15 new restaurants in fiscal 2015."
The next part of this series will focus on Luxor's position increase in Altisource Portfolio Solutions.