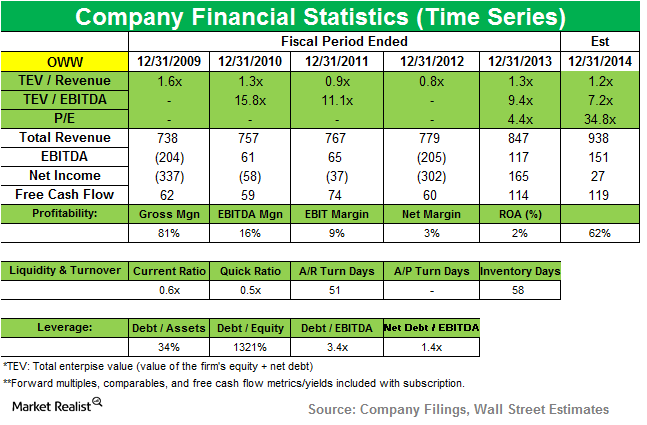 Luxor Capital adds new position in Orbitz Worldwide
By Samantha Nielson

Nov. 26 2019, Updated 6:46 p.m. ET
Luxor Capital added a new position in Orbitz Worldwide
Christian Leone's Luxor Capital's top new positions for the quarter ending in June were Melco Crown Entertainment (MPEL), Yahoo Inc. (YHOO), and Constellation Brands, Inc. (STZ). Luxor's 13G and 13D filings since July revealed new positions in Orbitz Worldwide, Inc. (OWW), Overseas Shipholding Group (OSGB), and Eclipse Resources Corp. (ECR). The fund raised its stakes in RCS Capital (RCAP), BJ's Restaurants (BJRI), and Altisource Portfolio Solutions S.A. (ASPS), and took activist positions in Altisource Asset Management Corp. (AAMC) and Conn's, Inc. (CONN).
Luxor Capital added a new position in Orbitz Worldwide, Inc. (OWW). A 13G filing in July noted that the fund owns 6 million shares. The filing said the fund owns a passive 5.4% stake in Orbitz.
Overview of Orbitz Worldwide
Article continues below advertisement
Chicago-based Orbitz Worldwide Inc. (OWW) is a global online travel company (or OTC) whose brand portfolio includes its namesake website, CheapTickets in the Americas, ebookers in Europe, HotelClub, and RatesToGo in Australia. Orbitz also owns and operates Orbitz for Business, a corporate travel company, and Orbitz Partner Network group, which delivers private-label travel solutions to a broad range of partners.
Similar to its peers operating in the OTC sector like Priceline Group (PCLN) and Expedia (EXPE), Orbitz generates revenue primarily from the booking of travel products and services on its websites.
Travel industry trends
Orbitz noted in its recent 10Q filing that "Worldwide travel is a $1 trillion industry that has been characterized by rapid and significant transformation driven by changes in demographic trends, globalization, and higher consumer discretionary spending. The travel industry continues to benefit from increasing internet usage and higher online and mobile booking penetration rates."
Orbitz cited data from the International Data Corporation that estimated online travel bookings will grow 15% annually from $402 billion in 2013 to $714 billion in 2017, with annual growth of 10% in the United States, 12% in Europe, and 22% in the Asia Pacific region.
Why shares fell in August
Article continues below advertisement
At the end of August, Orbitz said it reached an agreement with American Airlines to continue to offer American Airlines and U.S. Airways flights on all of its sites. Shares had dropped earlier after American Airlines said it is pulling its fares from Orbitz. Sister airline US Airways planned to do the same.
Orbitz posts increase in revenues and gross bookings
Orbitz net revenue rose 10% year-over-year to $248.1 million in 2Q14 as a result of higher hotel, vacation package, car, and air transaction volume. Orbitz said its Travelocity Partner Network (or TPN) acquisition contributed to the gross booking growth. Gross bookings increased 9% year-over-year to $3.4 billion in the second quarter 2014. Orbitz reported a profit of $6.9 million, or $0.06 a share.
Standalone hotel net revenue represented 36% of total second quarter net revenue, up from 35% in the second quarter 2013. Standalone air net revenue represented 29% of total second quarter net revenue, down from 30% in the second quarter 2013. Orbitz said 31% of standalone hotel bookings were made via mobile devices across the company's global consumer brand portfolio, up from 24% in the second quarter 2013.
The company forecast net revenues for 3Q14 between $249 million and $254 million, above analysts' estimate of $242 million.
The next part of this series will focus on Luxor's new position in tanker company Overseas Shipholding Group.