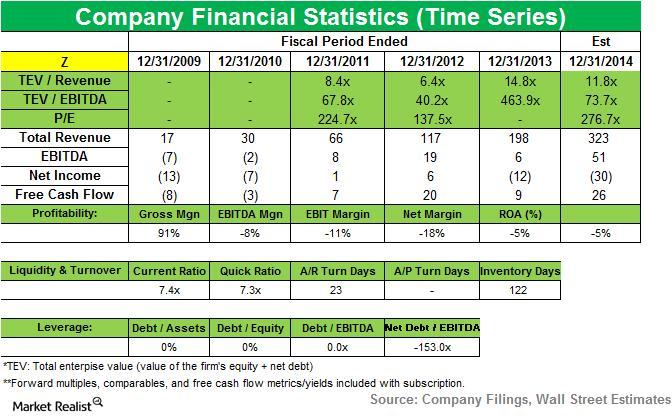 JAT Capital starts a new position in Zillow
By Patricia Garner

Nov. 27 2019, Updated 1:53 p.m. ET
JAT Capital position summary

John Thaler's JAT Capital Management's top new positions for the quarter ending in June were Amazon.com, Inc. (AMZN), Ctrip.com International, Ltd. (CTRP), and Zillow Inc. (Z). The fund also added to its positions in CBS Corporation (CBS), Yahoo! Inc. (YHOO), Twitter Inc. (TWTR), and Apple Inc. (AAPL), while it reduced its stakes in Time Warner Cable Inc. (TWC) and Qihoo 360 Technology Co Ltd. (QIHU). JAT Capital sold its position in Vipshop Holdings Ltd. (VIPS).
JAT Capital also took an activist position in The Madison Square Garden Company (MSG), according to the fund's 13D filing in September.
JAT Capital added a new position in Zillow Inc. (Z). The stock accounted for 0.93% of the fund's portfolio for the quarter ending in June.
About Zillow
Article continues below advertisement
Zillow, Inc. operates the leading real estate and home-related marketplaces on mobile and the Web. The company has a complementary portfolio of brands and products that help people find vital information about homes, and connect with the best local professionals. Zillow's brands serve the full lifecycle of owning and living in a home— buying, selling, renting, financing, remodeling, and more. Zillow also offers a suite of tools and services to help local real estate, mortgage, rental, and home improvement professionals manage and market their businesses.
Zillow's revenue includes Marketplace revenue and Display revenue. Marketplace revenue consists of real estate revenue and mortgages revenue. Real estate revenue primarily includes subscriptions sold to real estate agents under the Premier Agent program, as well as revenue generated by Zillow Rentals. Mortgages revenue includes cost-per-click advertising related to Zillow Mortgage Marketplace that's sold to mortgage lenders. Mortgages revenue also includes revenue generated by Mortech, which provides subscription-based mortgage software solutions, including a product and pricing engine, and lead management platform.
Display revenue primarily consists of graphical mobile and web advertising sold on a cost-per-thousand basis to advertisers. Advertisers mainly include those in the real estate industry such as real estate brokerages, home builders, mortgage lenders, and home services providers.
Revenue up 66%, strengthening leadership position
Article continues below advertisement
Zillow reported quarterly revenue of $88.6 million, up 66% over 3Q 2013. Marketplace revenue increased 77%, while Display revenue increased 30%, thanks to higher numbers of unique users on its mobile applications and websites. Mortgages revenue grew 24% due to an increase in the number of loan requests by consumers in Zillow Mortgage Marketplace.
Zillow reached a record 86 million average monthly unique users during the third quarter of 2014, up 41% year-over-year. In July, traffic broke an all-time record with nearly 89 million monthly unique users, an increase of 45% year-over-year.
Premier Agent advertisers spent a record amount with Zillow in 3Q14. Zillow added 4,059 net new Premier Agent advertisers in 3Q for a total of 60,877 as of September 30, 2014, with average revenue per advertiser reaching a record $349, up from $264 in the same period last year. Premier Agent advertisers who've been on the platform more than 12 months spent 65% more in 3Q14 than a year ago. Zillow Mortgage Marketplace continues to grow despite tightening in the mortgage markets overall.
Zillow acquires Trulia
Article continues below advertisement
Zillow announced plans to acquire Trulia, Inc. in a stock-for-stock transaction that's expected to close in 2015. The combined company will maintain the Zillow and Trulia consumer brands, offering buyers, sellers, homeowners, and renters access to vital information about homes and real estate for free, and providing advertising and software solutions that help real estate professionals grow their businesses.
Zillow's Partnership Platform expanded
Zillow continues to strengthen relationships with agents, brokerages, and Multiple Listing Services (or MLSs). The company recently added the New Jersey, Northern Nevada, and Northeast Oklahoma MLSs to the Zillow Partnership Platform. Also, Edina Realty, a Berkshire Hathaway Home Services affiliate and the largest brokerage in Minnesota, recently joined the Zillow Pro for Brokers program, as did Lyon Real Estate in Sacramento, California. There are now 3,200 brokerage partners in the Zillow Pro for Brokers program, which has grown 60% since the end of the second quarter.
The next segment of this series will review the positions JAT Capital added for the quarter ended in June.