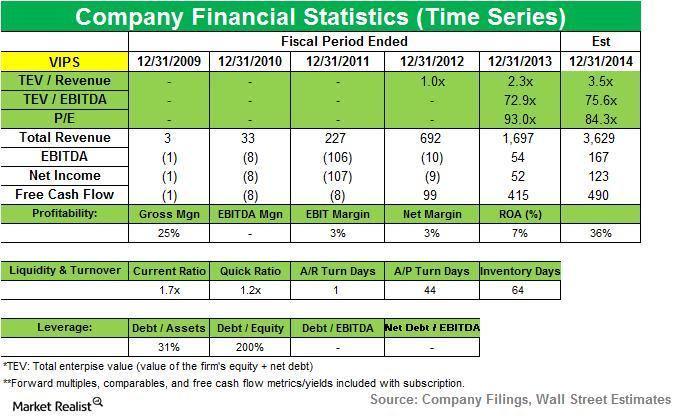 JAT Capital sells its position in Vipshop Holdings
JAT Capital position summary

John Thaler's JAT Capital Management's top new positions for the quarter ending in June were Amazon.com, Inc. (AMZN), Ctrip.com International, Ltd. (CTRP), and Zillow Inc. (Z). The fund also added to its positions in CBS Corporation (CBS), Yahoo! Inc. (YHOO), Twitter Inc. (TWTR), and Apple Inc. (AAPL), while it reduced its stakes in Time Warner Cable Inc. (TWC) and Qihoo 360 Technology Co Ltd. (QIHU). JAT Capital sold its position in Vipshop Holdings Ltd. (VIPS).
JAT Capital also took an activist position in The Madison Square Garden Company (MSG), according to the fund's 13D filing in September.
JAT Capital sold its position in Vipshop Holdings Ltd., or Vipshop. The stock accounted for 0.64% of the fund's first-quarter portfolio.
About Vipshop Holdings
Article continues below advertisement
Vipshop is China's leading online discount retailer for brands. Vipshop offers high quality and popular branded products to consumers throughout China at a significant discount to retail prices. Since it was founded in August 2008, the company has rapidly built a sizeable and growing base of customers and brand partners. The company, which listed in the U.S. in 2012, offers high-quality branded products to consumers in China through flash sales on its website, vipshop.com. Flash sales represent a new online retail format that combines the advantages of e-commerce with discount sales channels.
Unlike leading flash sales models in the U.S. and Europe, the flash sales market in China has quickly expanded beyond selling primarily luxury brands and services. China's flash sales market encompasses a broader range of brands and products, appealing to a larger base of consumers. Vipshop had 48.8 million registered members and over 12 million cumulative customers. It promoted and sold products for over 8,700 popular domestic and international brands as of December 31, 2013.
According to a Bloomberg report in March, Vipshop's Guangzhou-based share price doubled this year after surging 369% in 2013. This was the biggest advance on the Bloomberg China-U.S. Equity Index. The stock is up 87% year-to-date.
Article continues below advertisement
In March, Vipshop increased its convertible bonds offering to $550 million from the $400 million that had been announced earlier. The notes, which are due in 2019, have an interest rate of 1.5% and a conversion price of $201.24. The company also saw some existing shareholders selling 1.14 million American Depositary Shares at $143.74 each. A report in The Wall Street Journal said, "this was the second-largest convertible bond sale by a non-Japanese Asian issuer in the region this year."
Revenue beat estimates
Total net revenues increased by 136.1% to $829.4 million, from $351.3 million in the same period last year. Growth in the number of active customers and total orders drove the higher revenues. The number of active customers for the second quarter of 2014 increased by 167.9% to 9.3 million, from 3.5 million in the same period last year. The number of total orders for 2Q 2014 increased by 138.4% to 26.3 million, up from 11.0 million in the same period last year. Increased brand recognition, the company's continued efforts to optimize and increase brand and product selections available on both PC and mobile platforms, as well as the Lefeng acquisition are credited for the increase.
Gross profit increased by 149% and gross margin increased by 24.8%. This is because of the company's expanding scale, which gives it stronger bargaining power with its suppliers. The growth of the company's marketplace business also played a role in these results.
Marketing expenses increased by 196.7%, reflecting Vishop's strategy to reinvest in the business to drive long-term growth. These investments are intended to build greater brand awareness, attract more mobile users, and expand the company's market share in the core product categories other than apparel, such as cosmetics, home goods, and baby products.