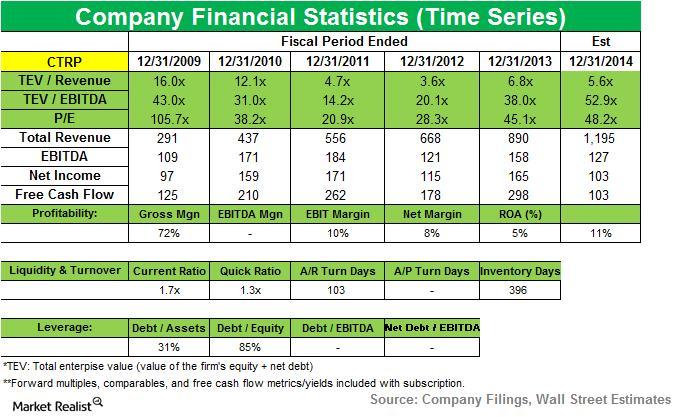 JAT Capital opens new position in Ctrip.com
By Patricia Garner

Nov. 20 2020, Updated 10:53 a.m. ET
JAT Capital position summary
John Thaler's JAT Capital Management's top new positions for the quarter ending in June were Amazon.com, Inc. (AMZN), Ctrip.com International, Ltd. (CTRP), and Zillow Inc. (Z). The fund also added to its positions in CBS Corporation (CBS), Yahoo! Inc. (YHOO), Twitter Inc. (TWTR), and Apple Inc. (AAPL), while it reduced its stakes in Time Warner Cable Inc. (TWC) and Qihoo 360 Technology Co Ltd. (QIHU). JAT Capital sold its position in Vipshop Holdings Ltd. (VIPS).
JAT Capital has taken an activist position in The Madison Square Garden Company (MSG), according to the fund's 13D filing in September.
JAT Capital added a new position in Ctrip.com (CTRP). The stock accounted for 1.06% of the fund's portfolio for the quarter ending in June.
About Ctrip
Article continues below advertisement
Ctrip.com International, Ltd., or Ctrip, is a leading travel service provider of accommodation reservations, transportation ticketing, packaged tours, and corporate travel management in China. Ctrip aggregates hotel and flight information to enable business and leisure travellers to make informed and cost-effective bookings. Ctrip also helps customers book vacation packages and guided tours. Ctrip's corporate travel management services help corporate clients effectively manage their travel requirements. Since its inception in 1999, Ctrip has experienced substantial growth and become one of the best-known travel brands in China.
2Q revenue beat estimates, mobile transaction value tripled
Ctrip's second-quarter results beat estimates. Net revenues were $278 million, up 38% year-over-year, exceeding net revenue guidance of 30 to 35%. Accommodation reservation revenues increased 47% year-over-year, driven by an increase of 64% in accommodation reservation volume. Transportation ticketing revenues increased 39% year-over-year, driven by an increase of 83% in ticketing volume. Packaged-tour revenues decreased by 21% quarter-over-quarter, primarily due to the seasonal cycle.
Product development expenses for 2Q14 increased by 55% compared to 2Q13, primarily due to an increase in product development personnel related expenses.
Article continues below advertisement
Ctrip's chairman said, "Both accommodation reservation and transportation ticketing services achieved strong volume growth at 64% and 83% year-over-year respectively. During the second quarter of 2014, approximately 80% of Ctrip's total transactions were booked online or through mobile channels. Ctrip has successfully built an industry-leading mobile travel platform by offering travelers the most comprehensive products with the most competitive prices and the best user experience. The number of Ctrip Mobile App downloads has reached 200 million, growing at a rate of 60% quarter-over-quarter. Total mobile transaction value for the second quarter of 2014 more than tripled from a year ago and the peak daily transaction value exceeded Renminbi 220 million recently."
Ctrip and The Priceline group expand partnership
The Priceline Group agreed to invest $500 million in Ctrip through a convertible bond. And Ctrip has granted The Priceline Group permission to acquire Ctrip shares in the open market over the next twelve months. Combined with the shares that are convertible under the bond, The Priceline Group may hold up to 10% of Ctrip's outstanding shares. Upon purchase of the convertible bond, The Priceline Group will acquire the right to appoint an observer to the Ctrip board of directors. This partnership will cross-promote accommodations inventory between the two companies.
Ctrip to acquire Celebrity Century 
Ctrip is the largest cruise agency in China and has more than 10% market share in China. By acquiring Celebrity Century, one of the top-tier vessels in the world, from Royal Caribbean Cruises Ltd., Ctrip will strengthen its leadership in the market.
Chinese online travel market bullish growth
According to iResearch, China's online travel market maintained stable growth in Q3 2014, and online travel agencies' (OTA) revenues amounted to 3.95 billion yuan, with year-over-year growth of 21%. The domestic market was impacted by a price war, while the outbound market continued to thrive despite events in Malaysia and the Philppines. In the OTA market, Ctrip accounted for 55.9%, while its peers Elong and Tong Cheng total accounted for 16% in 3Q14.  According to iResearch, Ctrip continues to invest in products and corporations that grow its businesses.
The next part of this series reviews the fund's new position in Zillow.