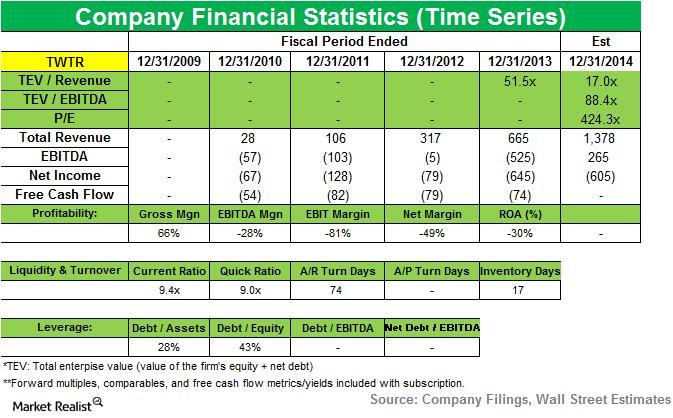 JAT Capital adds to its position in Twitter
By Patricia Garner

Nov. 27 2019, Updated 1:57 p.m. ET
JAT Capital position summary

John Thaler's JAT Capital Management's top new positions for the quarter ended in June were Amazon.com, Inc. (AMZN), Ctrip.com International, Ltd. (CTRP), and Zillow Inc. (Z). The fund also added to its positions in CBS Corporation (CBS), Yahoo! Inc. (YHOO), Twitter Inc. (TWTR), and Apple Inc. (AAPL), while it reduced its stakes in Time Warner Cable Inc. (TWC) and Qihoo 360 Technology Co Ltd. (QIHU). JAT Capital sold its position in Vipshop Holdings Ltd. (VIPS).
JAT Capital also took an activist position in The Madison Square Garden Company (MSG), according to the fund's 13D filing in September.
JAT Capital added to its position in Twitter Inc. (TWTR). The stock accounted for 5.56% of the fund's portfolio for the quarter ending in June.
About Twitter
Twitter Inc. is a global platform for public self-expression and conversation in real time. It provides a way for people to stay informed about their interests, discover what's happening in their world, and interact directly.
Revenue up despite slow user growth
Article continues below advertisement
Twitter reported below-expected monthly active user (or MAU) growth during its 3Q14 earnings announcement. In 3Q14, Twitter added only 13 million MAUs, for a total of 284 million MAUs. This growth of 4.8% was much slower than the 6.4% growth in corresponding 3Q13 and the 5.9% growth in 2Q14. The main reason for this slowdown, as cited by management, was the implementation of increased authentication measures. This negatively affected user growth in a number of Asia-Pacific countries. Twitter added 3 million MAUs in the U.S. and 10 million internationally.
Despite slower MAU growth, Twitter maintained revenue growth of 114% compared to 3Q13, bringing in $361 million in 3Q14. This revenue beat Twitter's own guidance of $340 million. Revenues from the U.S. market grew by 88%, while internationally they grew at 164%.
Twitter credited the strong revenue growth to the increase in ad revenue per thousand timeline views metric. This is the main parameter that Twitter uses to measure user engagement. This metric reached $1.77 in 3Q14—a year-over-year increase of 83% and a sequential increase of 11%. In the U.S., this metric was much more valuable, reaching $4.28—up 66%. In international markets, this metric grew at a year-over-year rate of 132% to reach $0.84.
With the revised revenue guidance from Twitter, its overall revenues should grow by 72% in 4Q14 compared to 4Q13—slower, but still a healthy growth rate.
Twitter's initiatives to grow its business
Article continues below advertisement
Despite continued growth, Twitter is still a small player in the online advertising market. Twitter earns its revenues from two segments—online advertising and data licensing. Online advertising contributes about 90% to Twitter's revenues. Currently, Twitter is taking a number of initiatives to grow both its businesses.
To grow its online advertising business, Twitter is expanding its business to more international markets. It's also rolling out new ad products, focusing on improved ad targeting, and working on better returns on investment for advertisers. Plus, Twitter is making a lot of efforts to grow its MAUs. It changed its sign-up process to make it simpler for first-time users. It's also improving its content quality and at the same time adding features to its direct messaging service to enable private conversations.
Twitter's looking to start monetizing logged-out users—users who don't log in to Twitter's site but who interact with its platform. The company changed its user profile pages to better engage these logged-out users. Because these users are more than Twitter's MAUs, they're an important group.
Although Twitter's other business—data licensing—contributes only 10% to its revenues, it's a fast-growing business. To grow this business further, Twitter recently partnered with International Business Machines Corp. (IBM) to analyze user data with IBM's analytics tools. Data analysis helps businesses glean insights on how users perceive products and services.
Twitter's new developer platform, Fabric, helps monetize apps
Article continues below advertisement
At Twitter's first mobile developers conference, Flight, the company released a new developer toolkit named Fabric for developers to create mobile apps. The developers can integrate this toolkit with their apps to get crash reporting, beta testing, and analytics information regarding their apps. This platform also helps developers monetize their apps. Analyzing an app's performance is an important parameter for monetization purposes.
Self-serve ads helping Twitter
Twitter needs the support of as many advertisers as possible to become a major player in the digital advertising world. The company plans to capture as many small and medium businesses (or SMBs) as possible by offering techniques that can save advertising costs. The self-serve ad is a format that lets advertisers place ads without the intervention of a sales representative. During the earnings call, management said it's expanded the reach of Twitter's self-serve ad platform to 12 new countries. Twitter now covers 45% of its customer footprint with self-serve ads.
Acquisition of CardSpring to boost e-commerce business
In July 2014, Twitter acquired CardSpring, a payments infrastructure company that helps retailers offer online shoppers online-to-offline promotions. Twitter recently launched an in-tweet "buy" button, enabling users to conduct e-commerce transactions instantly and directly from Twitter's platform. The company has also developed the product "Cards," which lets e-commerce companies insert ads inside tweets.
To learn more about this company, read Market Realist's series about Twitter's stock fall after its 3Q earnings release.
The next part of this series reviews JAT Capital's added position in Apple.