Why inflation differs between young and mature economies
By David Ashworth

Dec. 2 2014, Updated 8:00 a.m. ET
Inflation
A rise in a country or region's general price level is described as inflation. It's measured in percentage terms. Inflation is comparable for countries that are in the same evolution stage in the business cycle. The higher the inflation, the lower the quantum of a particular good that can be purchased—compared to the past.
In the investment world, you may have heard of adjusted inflation—or real returns. The adjustment is done to understand if your investment is providing returns above the prevailing inflation level.
Article continues below advertisement
Difference between young and mature economies
Inflation is like blood pressure—depending on the individual, only a certain range is considered normal. Any reading above or below the normal range is a cause for concern. A high or low reading needs to be addressed.
For developing or high-growth nations, higher inflation is considered normal—compared to developed nations.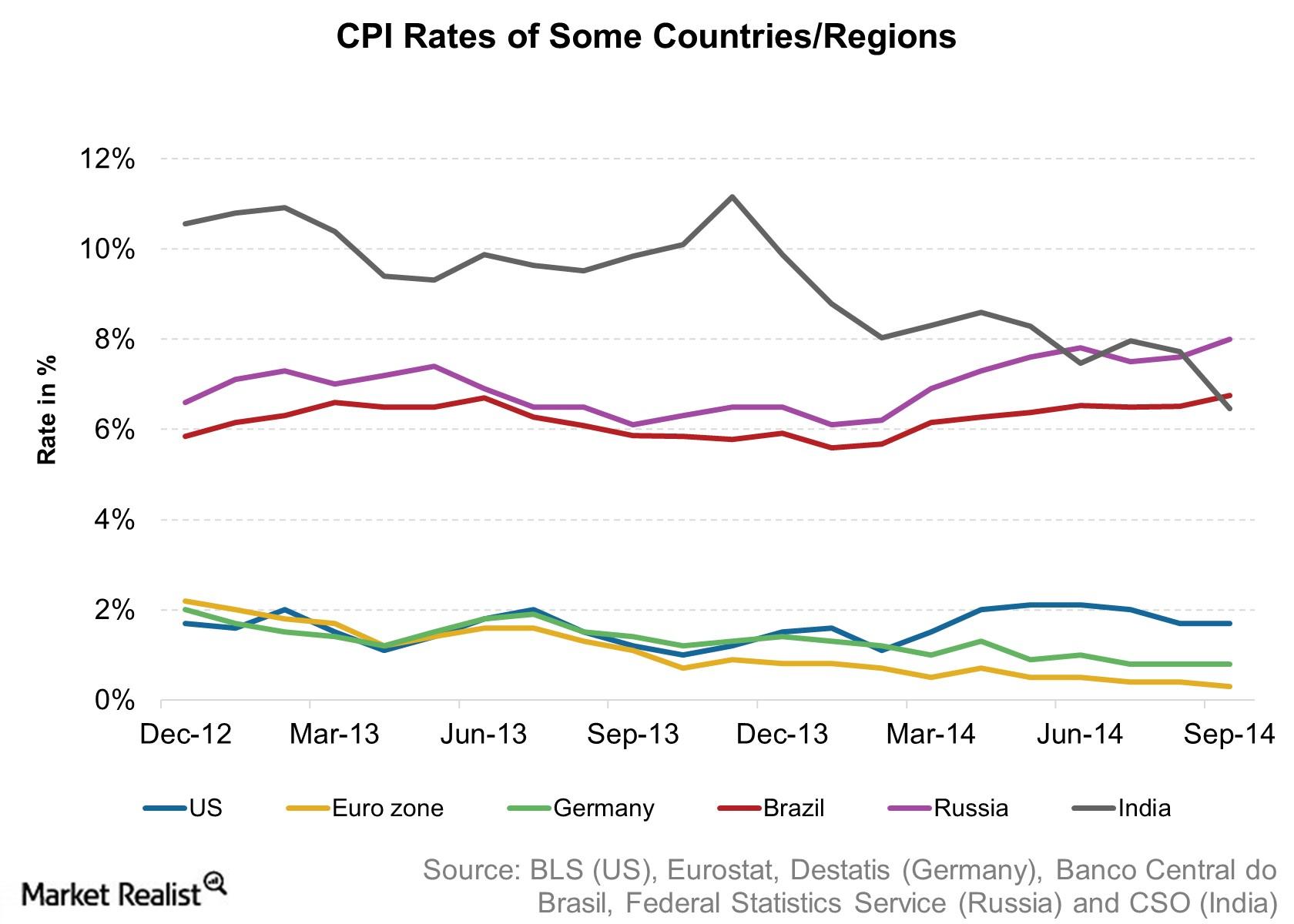 Like children, the economic growth rate for developing nations is quicker. The demand is higher. Nations with growing economies have a higher consumption growth rate. They also have higher spending growth.
In contrast, nations with mature economies already have developed infrastructure and facilities. They don't need large investments in those cost-intensive areas. Also, higher inflation for these countries has implications—like reduced international competitiveness for goods produced—because their production costs will be pushed higher.
Most exchange-traded funds (or ETFs) that track India are either diversified across sectors or they follow the CNX Nifty Index—one of India's two leading equity benchmarks. The ETFs give you exposure across industries.
Although they aren't inflation proof, investing in ETFs—like the the WisdomTree India Earnings Fund (EPI), the iShares MSCI India ETF (INDA), the iShares S&P India Nifty 50 Index Fund (INDY), the PowerShares India Portfolio (PIN), and the India Small-Cap Index ETF (SCIF)—help you diversify your investment in India.
High exposure to technology and financials, which are sensitive to the interest rate, can support your investment when inflation is favorable.
India doesn't have a Producer Price Index (or PPI). Instead, it uses the Wholesale Price Index (or WPI) and the Consumer Price Index (or CPI). In the next part of this series, we'll discuss these two measures in more detail.