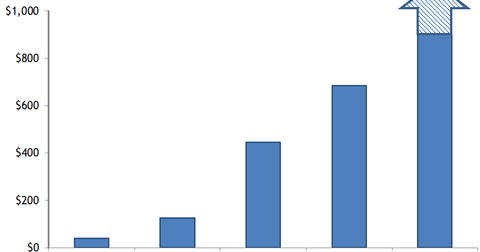 Greenlight acquires stake in NorthStar Asset Management
By Samantha Nielson

Updated
Greenlight Capital and NorthStar Asset Management
Greenlight disclosed a new position in NorthStar Asset Management Group Inc. (NSAM). The position accounted for 1.21% of the fund's portfolio for the third quarter that ended in September.
Article continues below advertisement
Overview of NorthStar Asset Management
NSAM was spun off from NorthStar Realty Finance Corp. (NRF). At the end of June, NorthStar Realty completed the previously announced spin-off of its asset management business into a separate publicly-traded company through a tax-free distribution. In connection with the distribution, each of NorthStar Realty's common stockholders received NSAM shares on a one-for-one basis. NorthStar Realty continues to operate its commercial real estate debt origination business.
NSAM's business and revenue sources
NSAM is a global asset management firm that manages NRF. It also manages multiple public, non-traded real estate investment trusts (or REITs). It has $19 billion in total assets. NSAM will manage NRF assets based on a 20-year management contract. REIT companies previously sponsored by NRF are now managed by NSAM's affiliates.
NSAM also owns NorthStar Realty Securities LLC. It's NorthStar Realty's previous captive broker-dealer platform. NSAM expects to expand its asset management business through organic growth by managing additional investment vehicles. It could also expand through the acquisition of third-party asset management contracts and businesses.
The company mainly generates revenue from asset management, incentive, and other fee income from NorthStar Realty. It also generates revenue from its sponsored companies. It generates revenue from commission income from selling equity in its sponsored companies.
Article continues below advertisement
Raised $771 million of capital in non-traded REIT business YTD
According to a November presentation, NSAM is a fast-growing business with $2.1 billion of total capital raised to date. It raised $771 million of capital in the non-traded REIT (or NTRs) business year-to-date (or YTD). This includes $291 million in the third quarter and $112 million in October 2014. Managed companies' total assets as of September 30, 2014, were ~$19.4 billion. This included NorthStar Realty investments.
Net income for 3Q14 was $18.7 million, or $0.10 per diluted share. It posted cash available for distribution (or CAD) of $0.19 per share.
During 3Q14, NSAM announced acquisitions of two real estate management platforms—American Healthcare Investors LLC (or AHI) and Island Hospitality Management Inc. The acquisitions have "significant upside potential." They're expected to generate ~$0.10 per share of incremental CAD in 2015.
Greenlight's positions during the third quarter
The activist fund added new positions in Citizens Financial Group (CFG), CONSOL Energy (CNX), ON Semiconductor (ONNN), AECOM Technology Corporation (ACM), and NorthStar Asset Management Group Inc. (NSAM). Its top exits were Computer Sciences Corporation (CSC) and Tempur Sealy International Inc. (TPX). Greenlight's investor letter highlighted its investments in Civeo and EMC.
The next part of this series will highlight the fund's position in EMC.