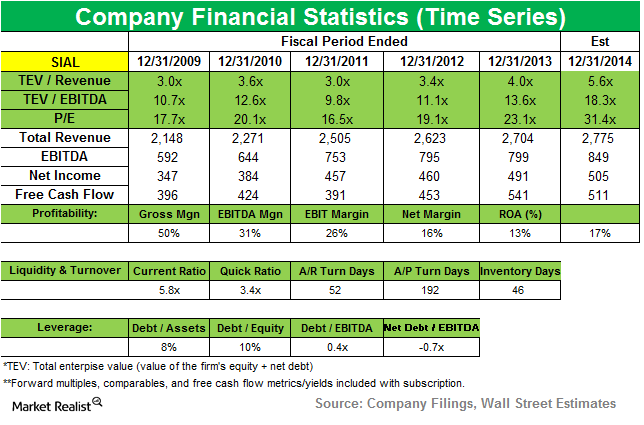 GAMCO Investors opens a new position in Sigma-Aldrich
GAMCO adds new position in Sigma-Aldrich
GAMCO Investors started a new position in 3Q14 in Sigma-Aldrich Corp (SIAL). The position accounted for 0.24% of the fund's 3Q14 portfolio.
Sigma-Aldrich overview
Sigma-Aldrich, headquartered in St. Louis, Missouri, is a Life Science and Technology company whose biochemical and organic chemical products, kits, and services are used in scientific research, including genomic and proteomic research, biotechnology, pharmaceutical development, the diagnosis of disease, and as key components in pharmaceutical, diagnostics, and high-technology manufacturing.
Article continues below advertisement
Its customers include pharmaceutical and life science companies, university and government institutions, hospitals and a wide range of industrial companies. Sigma operates via three business units: Research, Applied, and SAFC Commercial. Research accounted for 51% of the company's sales for the nine months ended September 30, 2014.

Sigma-Aldrich to be acquired by Merck KGaA
In September, German pharmaceutical company Merck KGaA agreed to acquire Sigma-Aldrich for $17 billion. The agreed price represented a 37% premium to Sigma-Aldrich's closing price of $102.37 on September 19, 2014. Together with EMD Millipore, the life science division of Merck, Sigma-Aldrich, will offer customers a complementary range of products across laboratory chemicals, biologics, and reagents.
In pharma and biopharma production, Sigma-Aldrich will complement EMD Millipore's existing products and capabilities. The release said the acquisition will create "one of the leading players in the $130 billion global life science industry." The acquisition will also expand Merck's presence in North America and add exposure to fast-growing Asian markets.
Sigma-Aldrich expands antibody portfolio with acquisition of Cell Marque
Article continues below advertisement
Sigma recently acquired Cell Marque Corporation—based in Rocklin, California—in a move to strengthen its antibody portfolio. Cell Marque designs, develops, and manufactures antibody reagents and kits. The offering is expected to complement Sigma-Aldrich's immunohistochemistry (or IHC) product family. Management noted, "Cell Marque's strong in vitro diagnostic (IVD) antibody product lines and solid relationships with pathologists and companies that provide automated staining instrumentation will broaden the diagnostic health reach of Sigma-Aldrich."
Sigma's latest 3Q14 sales rose 4% to $690 million. Excluding costs related to restructuring and mergers and acquisitions, adjusted diluted EPS was $1.06 compared to $1.05 in 3Q13.
Segment results
Research business unit sales grew 2% with positive sales growth in the U.S. Academic segment that reversed a downward trend since 2011 and continued double-digit sales growth in China.
Applied business unit sales grew 10%, driven by higher sales to customers in the Diagnostic and Testing markets. Sales also grew in the Industrial segment, led by analytical standards and air monitoring products as well as OEM sales initiatives for diagnostics products.
SAFC Commercial business unit saw growth led by a double-digit sales increase in the Life Science Services segment and a mid-single digit sales increase in the Hitech segment.
Sigma said that due to foreign currency changes, its 4Q14 sales are expected to be approximately $25 to 30 million lower than earlier guidance, and 4Q14 adjusted fully diluted EPS is also expected to be approximately $0.05 lower than the previously provided guidance.
Other 3Q14 activities at GAMCO
GAMCO Investors also added new positions in TRW Automotive Holdings Corp. (TRW) and Weatherford International in the third quarter. GAMCO acquired stakes in Concur Technologies Inc. (CNQR), Sigma-Aldrich Corp. (SIAL), and Bally Technologies Inc. (BYI), all of which are currently involved in merger and acquisition transactions. The fund added to its positions in Sony Corp. ADR, the Interpublic Group of Companies Inc., and Chemtura Corporation as well.
The next part of this series will highlight GAMCO's new position in Bally Technologies.