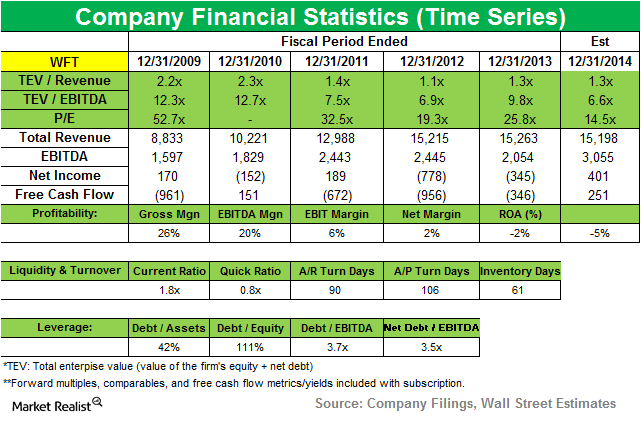 GAMCO adds new position in Weatherford International
By Samantha Nielson

Nov. 20 2020, Updated 4:44 p.m. ET
Third-quarter addition for GAMCO
GAMCO Investors took a large new position in Weatherford International (WFT) during the third quarter. The position accounted for 1.21% of the fund's 3Q14 portfolio.
Weatherford International overview
Weatherford International offers equipment and services to companies in the oil and natural gas exploration industry. The firm provides land-based and offshore businesses with the following services through formation evaluation, well construction, completion, and production service line groups:
controlled pressure drilling and testing
tubular running
drilling tools
integrated drilling
wirelines
re-entry and fishing
cementing
liner systems
integrated laboratory services
surface logging
artificial lift systems
stimulation and chemicals
completion systems
pipelines
specialty services
Weatherford is the smallest of the four top oilfield service firms, which also include Schlumberger Limited, Halliburton Co., and Baker Hughes Inc. Weatherford reviews operational performance on a geographic basis. The following regions are separate reporting segments:
North America
Latin America
Europe, Sub-Saharan Africa (SSA), and Russia
Middle East-North Africa (MENA) and Asia Pacific
Weatherford divests itself of non-core assets and reduces debt

The company's non-core concerns include drilling rigs; pipeline and specialty services; drilling fluids; testing and production services; and wellheads. The firm has been divesting itself of such concerns to focus on its four product segments:
well construction
formation evaluation
completion
artificial lift systems
Article continues below advertisement
In July, WFT completed the sale of its land drilling and workover rig operations in Russia and Venezuela for $499 million plus estimated working capital of $10 million. In September, the firm sold its pipeline and specialty services business for $246 million and recognized a resulting gain of approximately $50 million from this transaction. In 3Q14, WFT said its net debt decreased sequentially by $717 million from the cash proceeds related to the divestiture of non-core businesses.
3Q14 results miss estimates, but operating income margins show improvement
Third-quarter earnings and revenue missed on estimates. Revenue was up 4% sequentially to $3.88 billion, compared with $3.71 billion in 2Q14 and $3.82 billion in 3Q13. GAAP (generally accepted accounting principles) net income came in at $77 million, or $0.10 per diluted share.
WFT said its operating income margins continued to improve for the third consecutive quarter. Increases in the core business margins mainly drove this growth. The firm added that operating income improvements in the Latin America, North America, and Europe-SSA-Russia segments were partially offset by the MENA-Asia Pacific segment, where disruptions in northern Iraq and North Africa slightly impacted operating income margins. Revenues in North America grew 9% sequentially and 14% year-over-year.
The company said in its earnings release that "The joint effect of continuing to divest non-core businesses, further optimizing the cost structure, increasing free cash flow, and an unencumbered focus on core businesses, should result in improved profitability and lower debt levels."
GAMCO adds other positions in 3Q14
Mario Gabelli's GAMCO Investors also added new positions in TRW Automotive Holdings Corp. (TRW) and Liberty Media Corporation Class C in the third quarter. GAMCO acquired stakes in Concur Technologies Inc. (CNQR), Sigma-Aldrich Corp. (SIAL), and Bally Technologies Inc. (BYI), all of which are currently involved in merger and acquisition transactions. The fund added to its positions in Sony Corp ADR, the Interpublic Group of Companies Inc., and Chemtura Corporation as well.
The next part of this series will highlight GAMCO's new position in TRW Automotive Holdings.