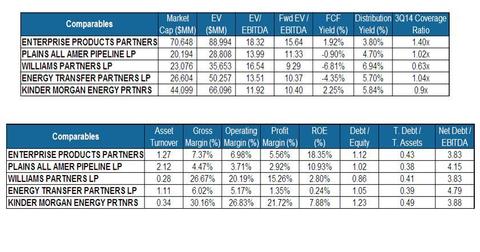 Comparing Enterprise Products Partners to its peers
By Alex Chamberlin

Updated
Peers by size
As noted in the table below, Enterprise Products Partners (EPD) is the largest company by market capitalization and enterprise value (or EV) among its closest peers. By market cap, Kinder Morgan Energy Partners (KMP) is next. KMP and EPD are both part of the Alerian MLP ETF (AMLP).
EV/EBITDA
KMP has the lowest EV/EBITDA multiple at 11.9x. EPD has the highest EV when scaled by EBITDA in the group. Its EV/EBITDA is 18.3x.
Analysts' consensus forward EV/EBITDA multiple is the lowest for Williams Partners (WPZ) in 2014. Forward EV/EBITDA is a useful metric to gauge relative valuation. A lower multiple usually indicates expectations of strong EBITDA growth for the period.
EPD's forward EV/EBITDA multiple is the highest, followed by Plains All American (PAA) in the group.
Distribution yield
Article continues below advertisement
EPD's distribution yield is the lowest among the group at 3.8%. WPZ's distribution yield is the highest at 6.9%. Distribution yield is cash distribution per unit divided by the unit price. The ratio is annualized and expressed as a percentage. All else equal, as distributions grow, you could expect the value of the underlying unit to also increase.
The above tell us that EPD trades, and is expected to continue to trade, at richer valuations compared to its peers.
Investors usually require a higher yield from riskier and smaller businesses. EPD is neither. Read about EPD's assets and business in our article "Enterprise Products Partners' business segments and assets."
Coverage
EPD's distribution coverage ratio—distributable cash flows divided by distributed cash flows—in 3Q14 was also the highest at 1.40x. followed by Energy Transfer Partners (ETP). This indicates a high degree of safety for distributions and distribution growth. It also indicates cash availability to fund growth projects.
A coverage ratio below one indicates that the company has trouble meeting its distribution. This could force it to cut distributions if its earnings don't improve.
Debt/EBITDA
EPD's net debt-to-EBITDA—when cash is netted from debt—multiple, at 3.8x, is among the lowest in the group. This is because of a combination of its relatively high EBITDA and industry average debt levels.
This reflects EPD's superior financial health, not only on the operational side—strong EBITDA—but also on the capital management side.
Other stars of the business
As you can see from the table above, KMP and WPZ—part of the Williams Companies group—are also giants in the midstream business.
You can read our analysis on Williams Companies strong 3Q14 results in "Must-know: A guide to Williams Companies' 3Q14 earnings." Also check out Market Realist's Energy & Power page.