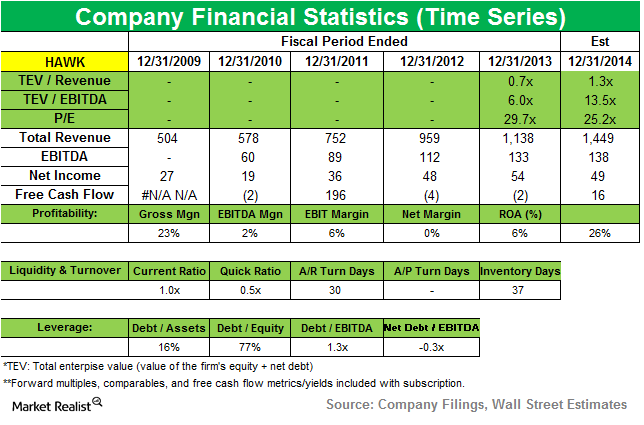 Citadel Advisors ups position in Blackhawk Network
By Samantha Nielson

Nov. 27 2019, Updated 1:54 p.m. ET
Citadel Advisors adds to stake in Blackhawk Network in July
Kenneth Griffin's Citadel Advisors added to its positions in Newfield Exploration Co. (NFX), JAKKS Pacific, Inc. (JAKK), Rosetta Resources, Inc. (ROSE), Angie's List, Inc. (ANGI), Blackhawk Network (HAWK), and PHH Corp (PHH).
Citadel Advisors filed a 13G with the SEC in July and updated its position in Blackhawk Network (HAWK). As per the filing, Citadel owns 5.2% of the company with 653,618 shares. This is up from 312,169 shares as per the fund's 2Q14 13F filing.
Overview of Blackhawk Network
Article continues below advertisement
Blackhawk Network is a leading prepaid payment network utilizing proprietary technology to offer a broad range of prepaid gift, telecom, and debit cards, in physical and digital forms, as well as related prepaid products and payment services in the United States and 21 other countries. In April, Blackhawk became a 100% publicly traded company as a result of parent Safeway Inc.'s distribution of all its shares of Blackhawk Class B common stock to Safeway stockholders.
The company offers gift cards from leading consumer brands, known as "closed loop". It also offers branded gift and incentive cards from leading payment network card associations such as American Express, Discover, MasterCard and Visa, known as "open loop". Plus, the company sells prepaid telecom products from prepaid wireless telecom carriers.
Blackhawk also distributes general purpose reloadable (or GPR) cards, including Green Dot and NetSpend branded cards, as well as PayPower, its proprietary GPR card. Blackhawk operates a proprietary reload network named Reloadit, which allows consumers to reload funds onto their previously purchased GPR cards.
Blackhawk acquires Parago to grow incentive solutions business
Article continues below advertisement
In September, Blackhawk announced the acquisition of Parago, Inc. for approximately $290 million. Parago provides global incentive and engagement solutions that drive customer acquisition, employee retention, and partner engagement. Blackhawk said the acquisition will add significant capabilities to its already extensive incentive solutions business.
Blackhawk's 3Q14 results saw 31% revenue growth due to robust sales of open loop gift cards in the U.S., the acquisitions of InteliSpend and Retailo in late 2013, and sales of digital media products in Japan. Operating revenues totaled $269 million, up from $206 million in the corresponding quarter last year. Adjusted net income totaled $4.7 million, up 17% from $4 million in 3Q13 while adjusted diluted EPS was $0.09, up 13% from $0.08 in 3Q13.
The company saw a 28% increase in commissions and fees primarily due to higher closed loop gift card sales. Program, interchange, marketing and other fees increased 73% due to strong open loop gift card sales in the U.S., issuing bank contract amendments, the acquisition of InteliSpend, and a 4% increase in product sales. Cardpool revenues grew 34% during the quarter.
The next part of this series will highlight Citadel Advisors' position increase in PHH Corp in July.