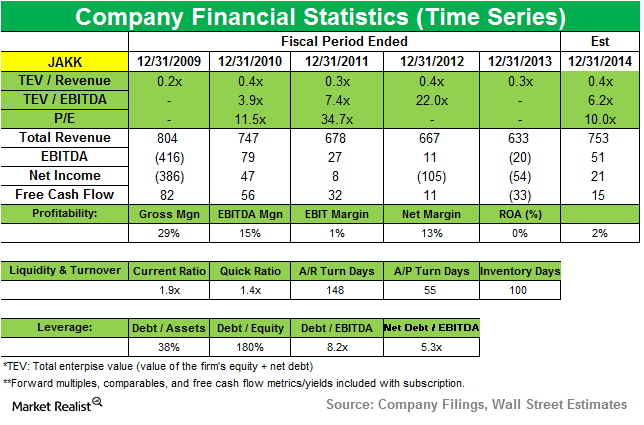 Citadel Advisors raises stake in JAKKS Pacific
By Samantha Nielson

Dec. 4 2020, Updated 10:53 a.m. ET
Citadel Advisors adds to stake in JAKKS Pacific this month
Kenneth Griffin's Citadel Advisors added to its positions in Newfield Exploration Co. (NFX), JAKKS Pacific, Inc. (JAKK), Rosetta Resources, Inc. (ROSE), Angie's List, Inc. (ANGI), Blackhawk Network (HAWK), and PHH Corp (PHH).
Citadel Advisors filed a 13G with the SEC in November and updated its position in JAKKS Pacific, Inc. (JAKK). As per the filing, Citadel owns 5.1% of the company with 1,252,157 shares. This is up from 43,000 shares as per the fund's 2Q14 13F filing.
Overview of JAKKS Pacific
Article continues below advertisement
JAKKS Pacific is a leading toy and consumer products company with a diverse product portfolio and customer base. The toy company designs, produces, markets, and distributes toys and related products, pet toys, consumables and related products, electronics and related products, kids indoor and outdoor furniture, and other consumer products. The company operates two segments:
Traditional toys and electronics
Role play, novelty and seasonal toys
JAKKS Pacific's website states that it has become a top five U.S. player in the toys and leisure products sector through product development, licensing agreements, and strategic acquisitions. The company has license agreements with Nickelodeon, Disney, and Warner Bros, as well as with the licensors of the many popular licensed children's characters.
JAKKS posts increase in revenue and profits
JAKKS' latest 3Q14 net sales grew 12% to $349.4 million from $310.9 million in the comparable period in 2013. Reported net income rose 16% to $44.1 million, or $1.03 per diluted share from $36.6 million, or $1.11 per diluted share in the corresponding period last year.
The management said JAKKS saw strong sales, especially as a result of its new Frozen Snow Glow Elsa doll and light-up musical dresses. The company also saw significant revenue from its Disguise Halloween offerings, Nintendo plush and figure products, and licensed large scale figures such as Star Wars, among others.
JAKKS said its international business posted "sharp year-over-year growth" in the third quarter, led by Frozen toddler dolls, Disney Princess toddler dolls, Nintendo plush and figures, Star Wars figures, and Slugterra toys.
JAKKS raises guidance for full year 2014
Due to the enthusiastic response to its products from retailers, licensors, and consumers, JAKKS increased net sales guidance for the full year 2014 to be in the range of $750 million to $760 million. Earnings guidance is in the range of $0.64 to $0.67 per diluted share from the previous range of $0.20 to $0.30 per diluted share.
The next part of this series will highlight a recent position increase in Rosetta Resources.