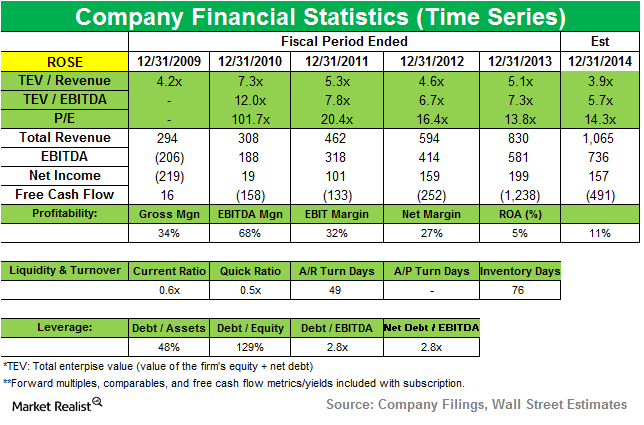 Citadel Advisors increases stake in Rosetta Resources
By Samantha Nielson

Nov. 27 2019, Updated 1:55 p.m. ET
Citadel Advisors adds to stake in Rosetta Resources this month

Kenneth Griffin's Citadel Advisors added to its positions in Newfield Exploration Co. (NFX), JAKKS Pacific, Inc. (JAKK), Rosetta Resources, Inc. (ROSE), Angie's List, Inc. (ANGI), Blackhawk Network (HAWK), and PHH Corp (PHH).
Citadel Advisors filed a 13G with the SEC in November and updated its position in Rosetta Resources, Inc. (ROSE). As per the filing, Citadel owns 6.4% of the company with 3,916,940 shares. This is up from 28,442 shares as per the fund's 2Q14 13F filing.
Overview of Rosetta Resources
Article continues below advertisement
Rosetta Resources Inc. is an independent exploration and production company. The Houston-based company is a leading producer in the Eagle Ford Shale in southern Texas, one of the nation's largest unconventional resource plays, and also holds a large oil-weighted position in the Permian Basin in western Texas.
Its strategy is focused on the acquisition, development and production of oil, natural gas liquids (or NGLs), and natural gas from unconventional resource plays. The company noted in its 10Q filing that it will continue to consider investments in the Eagle Ford shale region and in the Permian Basin that offer a viable inventory of projects, including resource-based exploration projects, property acquisitions in early development stages, and acreage swaps.
Third quarter sees production increase
For 3Q14, Rosetta's commodity mix was 29% crude oil, 35% NGLs, and 36% natural gas. The Eagle Ford area accounted for approximately 89% of its total production for the period. Plus, crude oil and NGLs represented approximately 61% of production from Eagle Ford and 87% of production from the Permian Basin.
Rosetta said its production for the quarter averaged 73.5 thousand barrels of oil equivalent per day (or MBoe/d), an increase of 44% from the corresponding period in 2013 and 20% from the prior quarter. The production growth was primarily a result of "a successful Wolfcamp delineation in the Permian Basin and continued development of its Eagle Ford assets." Oil production in the third quarter rose 39% and natural gas liquids daily production rose 45% from the corresponding quarter last year.
Revenue grows but EPS misses estimates
Revenues for the third quarter of 2014 were $365.6 million compared to $194.6 million for the same period in 2013. Adjusted net income missed estimates and came in at $33.4 million, or $0.54 per diluted share, down from $61.7 million, or $1.01 in 3Q13.
In terms of outlook, Rosetta said its 2014 capital guidance remains unchanged at $1.2 billion, excluding acquisition capital. Fourth quarter capital spending was forecast to be around $170 million. The estimated production guidance range for the fourth quarter is 72 to 74 MBoe/d.
The company said it expects to deliver annual production at the high end of the previously disclosed 2014 annual production guidance range of 63 to 66 MBoe/d. Rosetta also estimates 2015 capital spending to be approximately $950 million, excluding acquisitions.
The next part of this series will highlight Citadel Advisors' position increase in Angie's List in October.