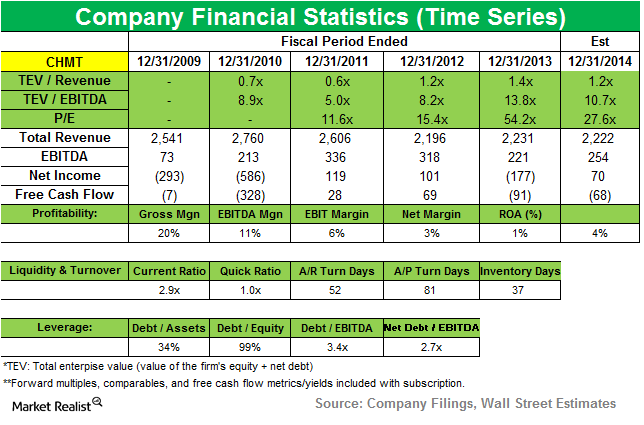 GAMCO Investors raises its stake in Chemtura
By Samantha Nielson

Nov. 27 2019, Updated 2:44 p.m. ET
GAMCO increases Chemtura stake

Mario Gabelli's GAMCO Investors upped its position in Chemtura Corporation (CHMT) during the quarter that ended in September 2014. Recently, a 13D amended filing raised the position further.
GAMCO said it owns 8,638,233 shares, or an 9.84% stake in Chemtura. Gabelli noted in an August CNBC video interview that he sees Chemtura as a "late-stage turnaround led by management that has a limited downside." He expects the stock to double "over the next five years."
Chemtura overview
Philadelphia-based Chemtura Corp. is a specialty chemical company with global operations. The company sells the majority of its chemical products to industrial manufacturing customers, who use the products as ingredients that add value to their end resultts.
For the year ending December 31, 2013, Chemtura's global net sales totaled $2.2 billion.
Here are two of Chemtura's key segments:
Article continues below advertisement
The Industrial Performance Products (or IPP)

segment develops, manufactures, and markets specialty performance chemicals, formulations, and polymers. This segment's major product offerings are base stocks, additive components, finished synthetic lubricants, specialty greases, cast urethane pre-polymers, thermoplastic polyurethanes, custom curatives, and urethane chemicals.

The Industrial Engineered Products (or IEP)

segment includes catalyst components, surface treatments, flame retardants, and an extensive line of bromine-based products that are used as agricultural and pharmaceutical intermediates. Products in this segment also include completion fluids for oil and gas extraction and mercury control products for coal-fired power stations. This segment also makes organometallics—metals containing organic chemicals that play a significant role in a variety of industrial applications.
Chemtura completes sale of agrochemicals business
In April, Chemtura sold its agrochemicals business Chemtura AgroSolutions to Platform Specialty Products Corporation (or PAH)—a global specialty chemicals company—for about $1 billion. Chemtura and Platform Specialty Products completed the deal in November. The objective of the sale was to "transform Chemtura into a focused, pure-play industrial specialty chemicals business."
3Q14 sales down due to lower sales in IEP and AgroSolutions
For the third quarter of 2014, Chemtura reported net sales of $558 million. This was a decrease of 2% year-over-year. The company posted net earnings from continuing operations on a generally accepted accounting principles, or GAAP basis totaling $15 million or $0.17 per diluted share. Both earnings and revenue came below analyst consensus. Chemtura said higher net sales in the IPP segment were more than offset by lower sales in the IEP and Chemtura AgroSolutions segments.
Segment updates for 3Q14
Article continues below advertisement
The IPP segment saw improved selling prices for some of its petroleum additive products and higher sales volumes for urethane products as a result of increased demand for industrial foam and oil and gas applications. However, the segment had a lower volume for petroleum additive products used in general industrial and marine applications.
The IEP segment experienced lower sales volumes mainly due to market demand from electronic connector and furniture foam flame-retardant applications. The impact of excess polyolefin catalysts, industry capacity, and the seasonal timing of fumigant sales also contributed to the lower volumes. Chemtura noted in its 10Q filing that "selling prices continue to remain weak for IEP as a result of competitive pressures, particularly in electronics applications and organometallic polymerization catalyst components."
Net proceeds from AgroSolutions sale used for share buyback and debt repayment
Chemtura said its board approved up to $500 million from the net proceeds of the AgroSolutions sale for a buyback program. The company will also make debt repayments of up to $250 million.
GAMCO's other 3Q14 activities
GAMCO Investors added new positions in Weatherford International (WFT), TRW Automotive Holdings Corp. (TRW), and Liberty Media Corporation Class C in the third quarter. The fund also acquired stakes in Sigma-Aldrich Corp. (SIAL), Concur Technologies Inc. (CNQR), and Bally Technologies Inc., all three of which are currently involved in merger and acquisition transactions. GAMCO added to its positions in Sony Corp. ADR and the Interpublic Group of Companies as well.