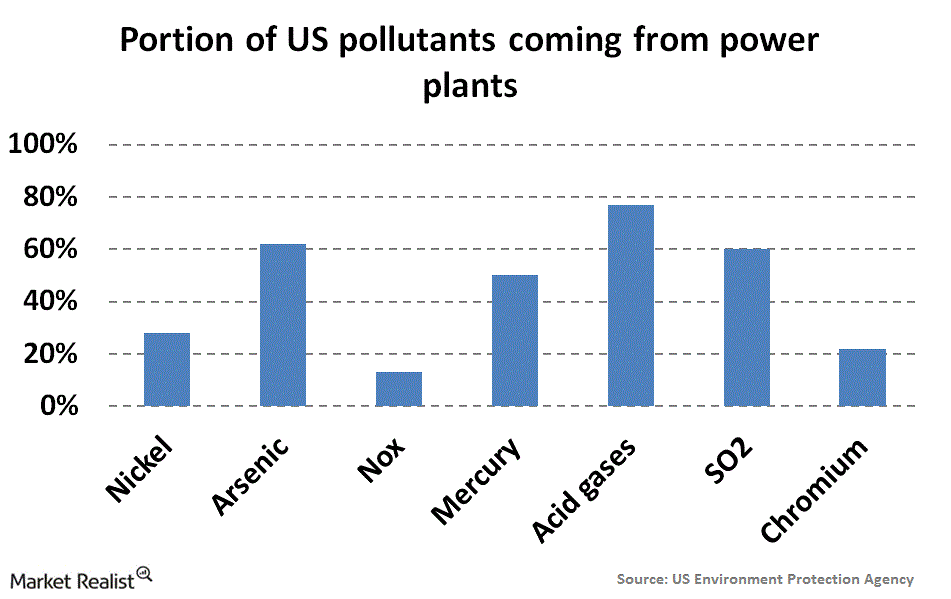 Why you should care about the EPA's war on coal
By Mike Sonnenberg

Nov. 26 2019, Updated 10:51 p.m. ET
The most-polluting fossil fuel
Coal is the cheapest energy source. But it's also the most polluting fossil fuel. Power plants emit harmful airborne pollutants like mercury, arsenic, nickel, and sulfur dioxide.
Coal accounted for 19% of overall U.S. energy use in 2013, but it also resulted in 32% of carbon dioxide emissions, according to the EIA (Energy Information Administration).
New regulations
The Environmental Protection Agency, or EPA, issued standards to reduce emissions of these pollutants. New coal-fired power plants must limit their carbon dioxide emissions to 1,100 pounds per megawatt hour. This means that new plants will have to emit 50% less than existing plants.
Existing coal-fired power plants now have to cut carbon dioxide emissions for 2030 by 30% from their 2005 levels. These plants have two options. They could upgrade to reduce pollution or switch to natural gas.
What's changed?
Since Republicans control Congress, they'll likely block these stricter rules. The EPA will release its final rule next June. With pressure from utilities and coal producers (KOL), the EPA's already planning to extend its deadlines for coal-to-gas switching.
Plus, Peabody Energy (BTU) has hired former Republican lawmakers to push bills through Congress and block the EPA's rules. If the deadline extends, coal producers like Alpha Natural Resources (ANR), Arch Coal (ACI), Peabody Energy (BTU), and Cloud Peak Energy (CLD) could benefit.
New technologies could also lead to deadline extensions for established plants. But what about new plants? Is anyone setting up new coal-fired plants these days? You can find out in Part 4 of this series.
Article continues below advertisement