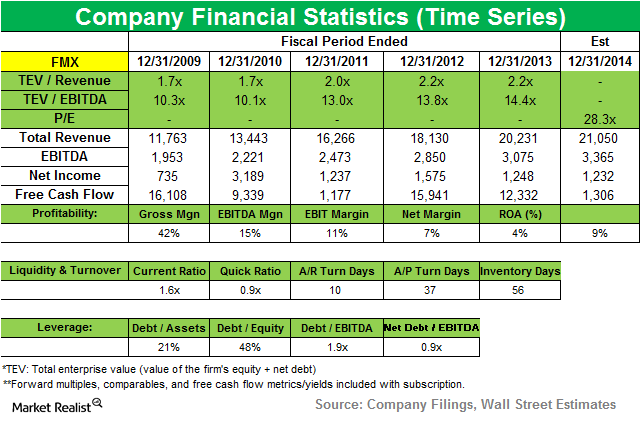 CalPERS exits FEMSA – Mexican bottler, convenience-store owner
By Samantha Nielson

Oct. 8 2020, Updated 4:59 p.m. ET
CalPERS exits from position in Fomento Economico Mexicano, SAB de CV (or FEMSA)
For the quarter ended in September, The California Public Employees' Retirement System (CalPERS) added new positions in Weatherford International Plc (WFT), Liberty Media Corp. (LMCA), Alibaba Group Holding Limited (BABA), Fidelity National Financial Inc. (FNF), CBS Outdoor Americas Inc. (CBSO), and TRI Pointe Homes Inc. (TPH). Top exits included stakes in Fomento Economico Mexicano, SAB de CV (FMX) and Vodafone Group Plc (VOD).
CalPERS exited its investment in Fomento Economico Mexicano, SAB de CV, also known as FEMSA, that accounted for 0.05% of the pension fund's total portfolio for the quarter ended in June.
Article continues below advertisement
Overview of FEMSA
Founded in 1890 in Monterrey, Mexico, FEMSA is comprised of two complementary business units—Coca-Cola FEMSA, the largest public bottler of Coca-Cola products in the world in terms of sales volume, and FEMSA Comercio, a convenience-store operator in Mexico.
FEMSA Comercio operates various small-format chain stores, including OXXO, the largest and fastest-growing chain of stores in Latin America. In 2010, FEMSA agreed to exchange 100% of its beer operations for a 20% interest in the Heineken Group. For the full year 2013, total revenues rose 8.3% to $19.7 billion.
Volumes impacted in 2Q14 in Mexico on taxes and weak economy
In 2Q14, the company saw Mexican volumes contract, "reflecting the adverse backdrop of the excise tax and extremely wet weather." Reports note that a new tax on junk-food and sugary beverages, as well as a weak economy in Mexico, impacted volumes. Meanwhile, FEMSA said it managed to grow revenue and profits by "implementing pricing and packaging strategies that drove revenues and partially offset the negative pressure, together with continued emphasis on efficiency and cost containment, as well as a generally benign raw material environment."
Article continues below advertisement
Revenue and profits grow but short-term challenges are in sight
FEMSA's third-quarter consolidated total revenues increased 13.2% to $5.516 billion, and profits grew 15.8% to $358 million compared to the third quarter of 2013, reflecting growth at FEMSA Comercio and Coca-Cola FEMSA. FEMSA Comercio revenue growth reflects 1,185 net new store openings in the last twelve months and 3.1% growth in same-store sales. Coca-Cola FEMSA total revenues increased 11.4% due to integration of Fluminense and Spaipa, two bottling franchises acquired in Brazil last year.
In its quarterly results announcement, FEMSA also noted that its income tax rate was 19.9% in 3Q14 compared to 32.6% in 3Q13, largely reflecting a one-time benefit from the resolution of tax liabilities with Brazilian tax authorities.
Management stated that despite "improving trends in certain operations and certain geographies, some headwinds remain in the short term." They added, "Volume performance at Coca-Cola FEMSA Mexico was strong in the face of significant tax-driven price increases carried out earlier in the year, but it belies the general softness still present in the Mexican consumer environment. And we continue to face challenging demand dynamics in some markets like Brazil."
The concluding part of this series will look at CalPERS' exit from its investment in Vodafone.