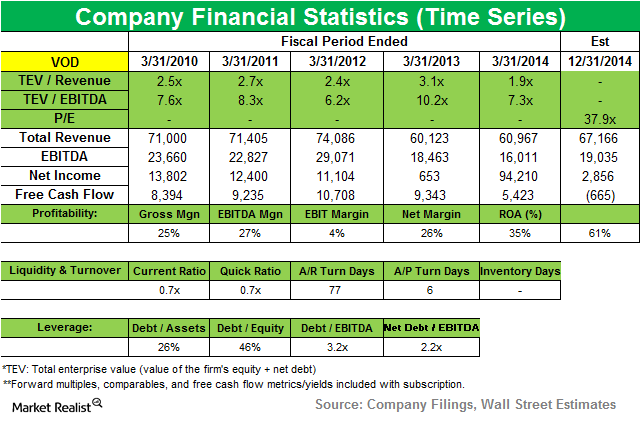 CalPERS hangs up on position in Vodafone
By Samantha Nielson

Oct. 8 2020, Updated 5:00 p.m. ET
CalPERS exits its position in Vodafone
For the quarter ended in September, The California Public Employees' Retirement System (CalPERS) added new positions in Weatherford International Plc (WFT), Liberty Media Corp. (LMCA), Alibaba Group Holding Limited (BABA), Fidelity National Financial Inc. (FNF), CBS Outdoor Americas Inc. (CBSO), and TRI Pointe Homes Inc. (TPH). Top exits included stakes in Fomento Economico Mexicano, SAB de CV (FMX) and Vodafone Group Plc (VOD).
CalPERS exited its investment in Vodafone Group Plc, or Vodafone, that accounted for 0.03% of the pension fund's total portfolio for the quarter ended in June.
Article continues below advertisement
Overview of Vodafone Group
Vodafone is one of the world's largest telecom companies and provides a range of services including voice, messaging, data, and fixed communications. It has mobile operations in 26 countries, partners with mobile networks in 52 more, and fixed-broadband operations in 17 markets. As of June 30, 2014, Vodafone had 436 million mobile customers and 9 million fixed-broadband customers.
United Kingdom-based telecom major Vodafone has been trying to transform itself into a pay-TV and broadband company. In line with this strategy, the company's acquired more cable and wireline operations, and has exited some of its wireless businesses. Last year, it acquired Kabel Deutschland, the largest cable operator in Germany, as well as Spanish cable operator Ono. In August, the company acquired security and telematics provider Cobra Automotive Technologies SpA, as well as a 72.7% stake in Greece-based Hellas Online, from World Equities Investments Holdings.

Acquisition rumors
Vodafone itself is considered an attractive acquisition target and has seen continual speculation of potential interest from AT&T Inc. (T) and Japan-based SoftBank. Vodafone shares were up on fresh rumors in August that AT&T executives were working on a bid for the company.
Article continues below advertisement
1Q service revenue falls on challenging operating conditions in Europe
Vodafone's revenue for the three months ended June 30 grew 6.2% year-over-year to 10.2 billion British pounds, or $17.3 billion—below expectations. On an organic basis, group service revenue fell 4.2%, with Europe seeing a 7.9% decline. The company said the decrease was driven by a challenging environment in Europe in terms of competition and regulation. Meanwhile, it said, "its performance in several markets is beginning to show some signs of stabilisation quarter-on-quarter." Spain saw the largest 15.3% drop in service revenue, due to high competition and market shift toward cheaper SIM-only and mid-tier handset deals.
Vodafone sees growth in emerging markets but faces competitive headwinds in Europe
For the latest second quarter ended September, organic group service revenue was down only 1.5%, due to improved commercial performance and the reduced impact of mobile termination rate cuts. First-half group revenue was up 8.9% to 20.8 billion British pounds. Vodafone said its two-year, 19 billion British pound Project Spring investment is well underway.
Vodafone said in a release that its "emerging markets business continues to deliver strong organic growth, reflecting the combination of increasing demand for mobile voice and data services." It said "European market conditions remain challenging mainly due to continued competitive headwinds and the difficult macroeconomic conditions, leading to an overall fall in organic service revenue." However, Vodafone said there are "some signs of stabilization in commercial performance and operating trends," with certain markets seeing early benefits from the company's Project Spring investment program.