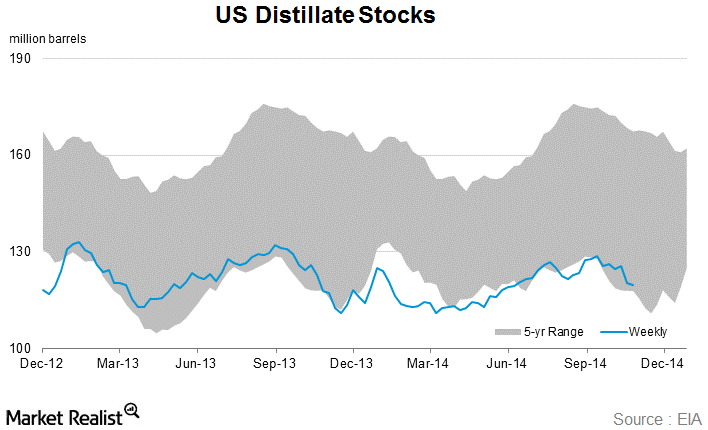 Why analysts were surprised by distillate inventories last week
Distillate inventories
Distillate supplies, which include heating oil and diesel, decreased by 724,000 barrels last week, foiling analysts' expectation that inventories would decrease by 2.2 MMbbls (million barrels).
The U.S. Energy Information Administration (or EIA) reports that distillate inventories of 125.7 MMbbls are still below the five-year average. These levels are the lowest since June this year.
Diesel production and demand
Article continues below advertisement
Distillate production increased from 4.4 MMbbls to 4.6 MMbbls last week, and demand decreased to 3.4 MMbbls per day from 3.9 MMbbls per day. This movement is counterintuitive because inventories usually increase when production rises and demand falls. Trade flows—stronger exports—may hold the answer to this draw.
International demand
U.S. refineries export considerable amounts of distillates, such as diesel, to China and other developing countries including India and Brazil. Economic conditions in these countries affect diesel demand and impact diesel prices.
Effect on refiners
Diesel prices affect the margins of refineries such as Valero Energy Corporation (VLO), Phillips 66 (PSX), Marathon Petroleum Corp. (MPC), and HollyFrontier Corp. (HFC). Most of these companies are components of the Energy Select Sector SPDR ETF (XLE).
Outlook for distillates
It's expected distillate production will grow by the end of 2014. Refineries have built new facilities to produce more distillates than gasoline in anticipation of strong global demand growth. Many of these units are expected to come online in 2014. This trend is based on long-term expectations for economic growth—and distillate demand—in emerging countries to remain strong.
Plus, according to the EIA's short-term outlook report, distillate fuel consumption will increase by 150,000 barrels per day or 3.9% in 2014, reflecting colder-than-average weather as well as economic growth.
The following part of this series looks at the movement in Cushing inventories last week.