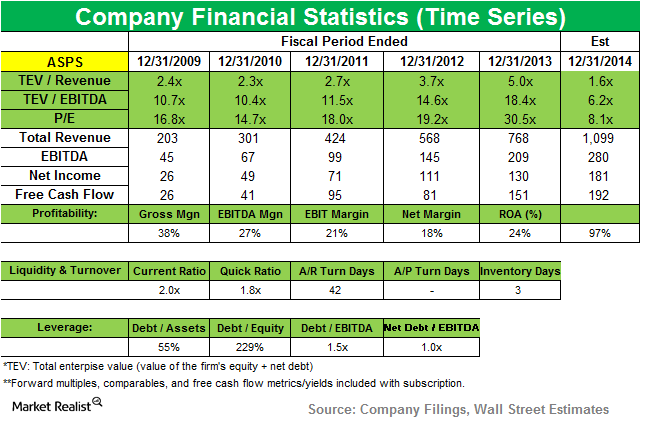 Luxor Capital raises stake in Altisource Portfolio Solutions
By Samantha Nielson

Nov. 26 2019, Updated 6:32 p.m. ET
Luxor Capital raises its position in Altisource Portfolio Solutions
Christian Leone's Luxor Capital's top new positions for the quarter ending in June were Melco Crown Entertainment (MPEL), Yahoo Inc. (YHOO), and Constellation Brands, Inc. (STZ). Luxor's 13G and 13D filings since July revealed new positions in Orbitz Worldwide, Inc. (OWW), Overseas Shipholding Group (OSGB), and Eclipse Resources Corp. (ECR). The fund raised its stakes in RCS Capital (RCAP), BJ's Restaurants (BJRI), and Altisource Portfolio Solutions S.A. (ASPS), and took activist positions in Altisource Asset Management Corp. (AAMC) and Conn's, Inc. (CONN).
Luxor Capital added to its position in Altisource Portfolio Solutions S.A. (ASPS). A 13G filing in August noted that the fund owns 2,381,550 shares. This is up from the  2,202,791 shares at the end of 2Q14. The filing said the fund owns a 10.9% stake in Altisource Portfolio Solutions.
Overview of Altisource Portfolio Solutions
Article continues below advertisement
Altisource Portfolio Solutions and its subsidiaries are a premier marketplace and transaction solutions provider for the real estate, mortgage, and consumer debt industries offering both distribution and content. The company has a ~$1.46 billion market cap. Since its separation from Ocwen Financial in 2009, Altisource has become a company providing a suite of mortgage, real estate, and consumer debt services, leveraging its technology and global operations. It has three reporting segments:
Mortgage services: Altisource Portfolio Solutions provides services that span the mortgage and real estate lifecycle and are typically outsourced by loan servicers, originators, and investors in single family homes. The company provides these services primarily for loan portfolios that Ocwen Financial Corporation and its subsidiaries service. It also has longstanding relationships with commercial banks, insurance companies, and mortgage bankers.
Technology services: Altisource provides IT infrastructure services to Ocwen and its subsidiaries, Home Loan Servicing Solutions (or HLSS), Altisource Residential Corporation, Altisource Asset Management Company (AAMC), and its other segments. Its REALSuite software platform provides a fully integrated set of software applications and technologies that manage the end-to-end lifecycle for residential and commercial mortgage loan servicing of a distributed network of vendors. The segment also includes Equator, LLC's software applications and Mortgage Builder Software.
Corporate items and eliminations: Includes costs related to corporate support functions, and also includes eliminations of transactions between the reporting segments.
Shares plunge on issues with Ocwen Financial's servicing systems and processes
Article continues below advertisement
Shares fell recently after Altisource and its affiliates, including real estate portal Hubzu, were named in an investigation of Ocwen Financial (OCN) by the New York Department of Financial Services (or DFS). The DFS alleged that Ocwen loan servicing backdated an unknown number of letters to struggling borrowers "likely causing them significant harm."
In a letter to Ocwen's general counsel in August, Benjamin Lawsky, superintendent of financial services, said that the DFS was "reviewing a troubling transaction involving Ocwen's related company, Altisource Portfolio Solutions, and the provision of force-placed insurance."
Altisource's third quarter service revenue rose 37%
Altisource classifies revenue in three categories: service revenue, revenue from reimbursable expenses, and non-controlling interests. The company uses the service revenue for evaluating its performance and the category consists of amounts attributable to its fee-based services. Third quarter service revenue grew 37% t0 $247.7 million. Diluted earnings per share rose 26% to $1.79 but missed estimates. Net income was up 17% to $42.3 million.
The company said in its 10Q filing that "the continued growth in service revenue was primarily driven by Ocwen's growth, higher auction mix for houses sold on consumer real estate portal – Hubzu, and revenue from Equator which was acquired in November 2013. This was partially offset by a decline in default management services driven by lower levels of foreclosure starts and the loss of an origination management services customer in the fourth quarter of 2013."
Altisource said it repurchased 2 million of its shares at an average price of $104.88 per share during the nine months ended September 30, 2014.
The next part of this series will focus on Luxor's position increase in Altisource Asset Management.