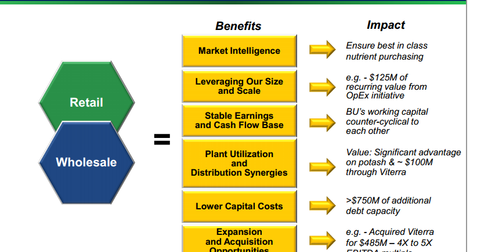 Why AGU believes retail and wholesale integration creates value
By Samantha Nielson

Nov. 26 2019, Updated 10:40 p.m. ET
Creating value
Activist investor Jeffrey Ubben's ValueAct Capital disclosed a 5.7% stake in Canadian fertilizer maker Agrium (AGU). The San Francisco-based fund said that the stake was acquired for "investment purposes."
Ubben, ValueAct's co-founder, noted at the recent Sohn Conference in San Francisco that Agrium's retail business is a "stable jewel" that safeguards its "downside" when commodity prices are volatile.
Agrium is familiar with hedge fund activism
Agrium is based in Calgary, Alberta. It's familiar with hedge fund activism through Barry Rosenstein's JANA Partners. JANA Partners exited its position in the company in 4Q13.
Article continues below advertisement
JANA disclosed stake in Agrium in 2012. It pressured the company to return capital and split its wholesale fertilizer and retail business. The fund said a tax free spinoff of the retail division would add a value of $50 per share. However, the fund lost a proxy fight for five of Agrium's 12 board seats at the annual meeting in 2013.
In a presentation on Agrium in 2012, JANA argued that "pairing a stable distribution business—retail—with a volatile, commodity-linked fertilizer business—wholesale—has led to a persistent valuation discount and relative underperformance." The fund added that the combined structure provided "no meaningful benefits, imposed high costs, and limited the ability of each to take part in consolidation—as buyers or sellers."
JANA's analysis compared Agrium with CF Industries (CF), PotashCorp (POT), and Mosaic (MOS) for wholesale. It compared it to distribution businesses like Tractor Supply (TSCO) Co., Watsco Inc. (or WSO), and W.W. Grainger Inc. (or GWW) for retail.
JANA's activism
JANA noted in its year-end letter for 2013 that Agrium and most of its shareholders "still appear to prefer a 'more stable' combined company with a lower valuation than two independent companies with a significantly higher combined value."
Despite losing the proxy battle, the fund noted that due to its involvement there were improvements in the company's capital allocation policy, disclosure, compensation structure, and cost management. Agrium raised its annual dividend by 50%. It also initiated management changes.
Will ValueAct bring about more change?
On the recent 3Q14 earnings call, Agrium CEO, Charles Victor Magro, said the "relationship with ValueAct is still evolving" and that the "discussions have been friendly." He added that the fund invested in Agrium because "they like its strategic plan." The company also reiterated the benefits of an integrated company at its recent investor day presentation in November.
AltaCorp Capital analyst John Chu believes that based on "ValueAct's approach and track record" there might not be any "dramatic changes" in the short term. As stated earlier, the fund believes in working with the company's management and board to bring about a change from the inside.