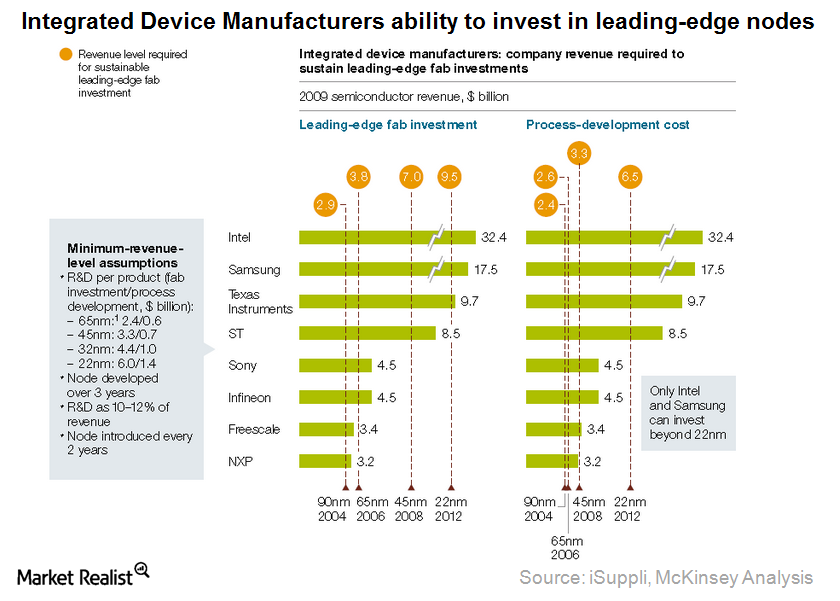 Why Mobile drives Intel's foundry operations
By Anne Shields

Dec. 4 2020, Updated 10:52 a.m. ET
Fabs require huge investments to operate
Huge investments are required to operate fabs. As a result, many chipmaking companies have stopped operating their own capital-intensive fabs. Instead, they've chosen to give this job to contract manufacturing foundries. Chipmaking manufacturing facilities and plants are referred to as fabs.
Unlike other chip makers, Intel (INTC) hasn't outsourced its fabs. It has invested heavily in them over decades. This investment and experience has given Intel a leading edge in manufacturing chips.
Qualcomm (QCOM) and Samsung Electronics (SSNLF) are other leading players in this business. As shown in the "research and development pipeline," Intel is currently producing 14nm silicon technology. It will soon have 10nm. It plans to reach 7nm and then 5nm in the near future.
Article continues below advertisement
The above presentation is taken from McKinsey's report on semiconductors. It shows that few device manufacturers have the ability to invest in and produce leading edge nodes. As the above charts shows, only Intel and Samsung had the resources to invest beyond 22nm. Although the report is dated, it could be applicable considering that there are few players in this space and Intel is dominant.
Intel strategically planned to push its process nodes to retain a competitive edge in the semiconductor manufacturing space.
Mobile companies offer a strong potential for Intel's foundry business
There's a strong possibility that Intel's foundry business will include clients like Apple (or AAPL), Qualcomm, and Nvidia (NVDA). Qualcomm supplies its Snapdragon processors—or mobile chips—to Microsoft's (MSFT) Windows 8 Phones. NVidia's Tegra 4 processors are used in Microsoft's second generation Surface tablet. Although Apple, Qualcomm, and Nvidia design their own chips, they have to depend on others like ARM Holdings (or ARMH)—for the fabs' actual manufacturing.