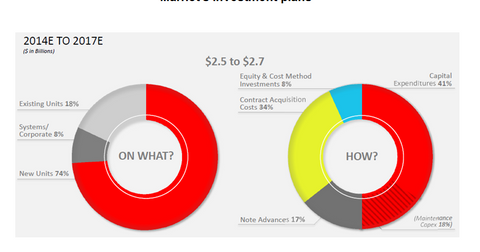 Why Marriott expects to expand with future investments
By Teresa Cederholm

Updated
Future investments
In the last part of the series, we discussed Marriott's pipeline. In this article, we'll learn more about the investment that's required to fund the expansion plan. We'll also look at the returns that are expected from these investments.
Four-year investment outlook
Marriott plans to invest $2.5–$2.7 billion between 2014 and 2017. It will mainly invest on capital expenditure, at 41%, and contract acquisition costs, at 34%. Almost 74% of the planned investment is expected to be spent on the development of new hotels and rooms. 18% is expected to be spent on the repair, renovation, and development of existing units.
Sources of capital
Marriott projects a total funding of $9.2–$10.3 billion, between 2014 to 2017, to be available from the following sources:
Article continues below advertisement
More than half of the funding, $5.5–$5.8 billion, is expected to be generated by cash from operations
Capital recycling is selling existing assets to build new assets. This results in minimizing the capital requirement. It's the second source that Marriott expects to generate $1.4–1.6 billion from.
Debt issuance to the extent of $2–$2.6 billion
$0.3 billion from issuance of common stock and other sources
Projected return on invested capital
An investment adds economic value to a business. It only adds value when it adds adequate returns. The returns need to cover all the costs and generate excess returns. It's important to measure an investment's return generating capability. This helps avoid capital loss.
Marriott has been successful. It increased return on invested capital (or ROIC) to 32% in 2013—from 26% in 2007. With the projected new investments, ROIC is expected to increase to 48%–53% in 2017.
Investors have the option of participating in expansion in hotel industry. They can do this by investing in shares of top companies—like Marriott (MAR), Hilton (HLT), Hyatt (H), Starwood (or HOT), and Wyndham (WYN).
They can also invest in exchange-traded funds (or ETFs) like the Consumer Discretionary Select Sector SPDR Fund (XLY) and the PowerShares Dynamic Leisure & Entertainment Portfolio (or PEJ). The ETFs hold stocks in hotel companies.