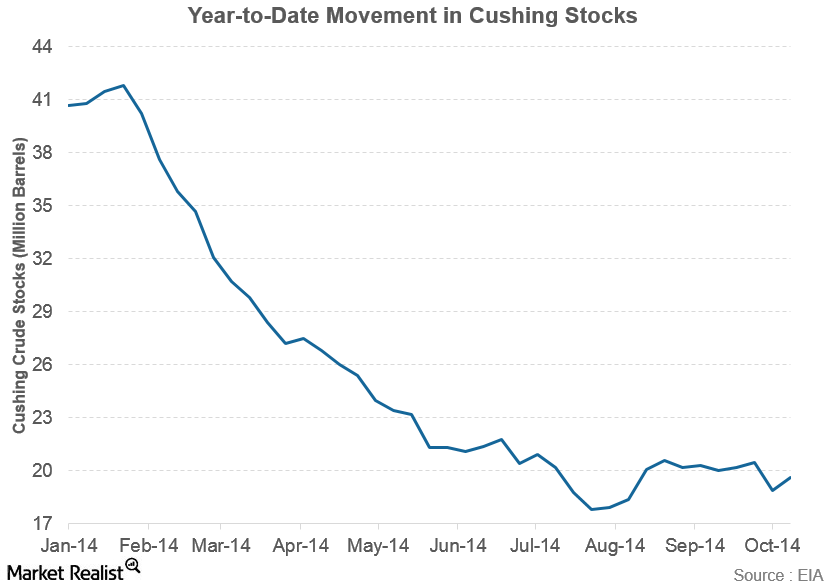 Why the long-term declining trend at Cushing may not continue
By Keisha Bandz

Nov. 20 2020, Updated 2:09 p.m. ET
Cushing inventories
Crude stocks at Cushing, Oklahoma increased by 716,000 barrels to 19.6 million barrels (or MMbbls) in the week ending October 10.
Cushing, Oklahoma is an important hub. It's where West Texas Intermediate (or WTI) crude oil is priced.
The significant increase in inventories is a result of the refinery turnaround season. It's also a result of surging U.S. oil production.
An inventory build would be negative for WTI prices. They're already under pressure because of over-supplied markets and not enough demand.
Long-term declining trend at Cushing
Article continues below advertisement
Cushing inventories have been declining most of the year. The decline is a result of the new infrastructure that came online. It allowed Cushing crude to move more. This infrastructure includes TransCanada's (TRP) Keystone XL Pipeline—you can read about it here, the Enterprise Product Partners (EPD) and Enbridge (ENB) joint venture—Seaway pipeline, and Magellan Midstream Partners' (MMP) Longhorn pipeline. It also includes the Cushing Marketlink pipeline.
As a result of these pipelines, flows from Cushing to the Gulf Coast are no longer constrained.
Also, sustained high crude oil runs at refineries in the Midwest and the Gulf Coast have also resulted in a decline in Cushing supplies.
Will the declining trend continue?
As new pipelines come online to bring more crude from Canada and North Dakota—the Bakken—to Cushing, the downward trend may not continue.
The Pony Express is operated by Tallgrass Energy Partners (or TEP). It connects Cushing with Guernsey, Wyoming. The project was completed earlier in October. It's said to have started commercial services.
Enbridge's (ENB) Flanagan South pipeline project will run through Illinois to Cushing. It's also expected to come online in November 2014.
As these pipelines come online and start bringing crude oil to Cushing, inventories will likely stabilize. As more pipelines come online, inventories may even start rising again.
Midstream companies play an important role
The midstream sector plays an important role in laying out infrastructure. It's based on the crude inventories that move.
Some of the midstream companies mentioned above are part of the Alerian MLP ETF (AMLP). ENB is part of the Alerian Energy Infrastructure ETF (or ENFR).
Seasonal maintenance could cause inventories to increase.
Crude inventories will likely increase in the next few months as refineries enter the seasonal maintenance. They will also increase as the rising output from shale formations continues.
Check out Market Realist's Energy & Power page for more articles on the energy industry.