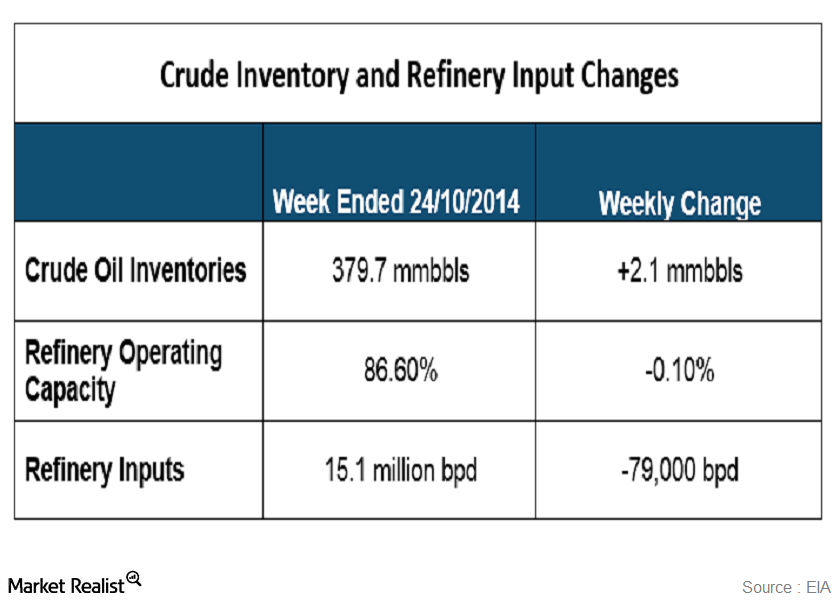 Why less-than-expected crude inventory increased
By Keisha Bandz

Nov. 20 2020, Updated 4:19 p.m. ET
EIA inventory data
On October 29, the U.S. Energy Information Administration (or EIA) released inventory data for the week ending October 24.
Breaking the trend from the past two weeks, inventories increased less than analysts expected. Analysts were expecting an inventory gain of 3.65 million barrels (or MMbbls). Inventories increased by 2.1 MMbbls.
Total U.S. commercial crude inventory now stands at 379.7 MMbbls. It remains at the higher end of the five-year range for this time of year.
Crude inventories have been increasing significantly for the past three weeks. The increase is due to strong U.S. oil production.
However, output levels touched 8.97 million barrels per day (or MMbbls/d) last week—the highest since 1986. The EIA added in its October Short-Term Energy Outlook (or STEO), that output will touch 9.5 MMbbls/d in 2015. This is the highest since 1970.
So, what caused inventories to increase less-than-expected despite strong production levels? The answer probably lies in the decrease in crude imports. Imports declined 376,000 barrels per day (or bpd). This was a 5% decline. Imports decreased to 7.1 MMbbls/d.
Refinery demand affects crude inventories
Crude draws and gains are also affected by refinery input levels.
Currently, the U.S. is experiencing the refinery maintenance season. As a result, refineries have been lowering their input demand.
Decreased refinery activity leads to an increase in crude inventories.
This trend could pressure West Texas Intermediate (or WTI) crude prices to move lower. We'll cover the implied impact on crude prices later in this series.
Key stocks and exchange-traded funds (or ETFs)
When WTI prices are pressured, it's negative for oil producing companies like Murphy Oil (MUR), Whiting Petroleum (WLL), Continental Resources (CLR), and Pioneer Resources (PXD). All of these companies are part of the SPDR S&P Oil & Gas Exploration & Production ETF (XOP).
Check out Market Realist's Energy & Power page for more articles on the energy industry.
In the next part of the series, we'll discuss the refinery activity last week.
Article continues below advertisement