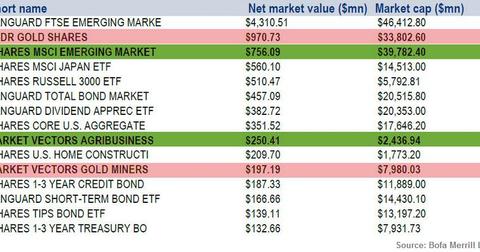 Why exchange-traded funds were hedge fund favorites in 2Q14
By Patricia Garner

Nov. 26 2019, Updated 5:12 p.m. ET
Exchange-traded funds (or ETFs)
An observation of hedge funds' 13F filings in 2Q14 showed that ETFs account for top positions in major hedge funds' portfolios—like Soros Fund Management, Paulson & Co., Bridgewater Associates, and Millennium Management. A recent report from Bank of America Merrill Lynch (or BoFAML) stated that ETFs owned by hedge funds were valued at $36.9 billion at the start of 3Q14. This was an increase of 12.1% from $33.8 billion in the earlier quarter.
The above graph shows the top 15 ETFs that hedge funds owned at the end of 2Q14. In this series, we'll highlight some of the ETFs that hedge funds preferred during the second quarter.
Vanguard Dividend Appreciation ETF 
The Vanguard Dividend Appreciation ETF (VIG) tracks the performance of the NASDAQ U.S. Dividend Achievers Select Index—formerly known as the Dividend Achievers Select Index. VIG tracks the stock performance of companies with a record of growing their dividends year-over-year (or YoY).
The fund's prospectus noted that it attempts to replicate the target index by investing all or most of its assets in the stocks that make up the index. It holds each stock in approximately the same proportion as its weighting in the index.
With an expense ratio of 0.10%, it has its place among the cheapest ETFs. The fund's assets under management (or AUM) is over $19.7 billion. Its top five holdings include Johnson & Johnson (JNJ), Coca-Cola (KO), Pepsi Co. (PEP), International Business Machines (or IBM), and ExxonMobil (XOM).
As of September 30, the fund had 4.5% of assets in its top holding—Johnson & Johnson. Its number ten holding—3M Corp.—had 2.8% of assets. Overall, the fund has 166 holdings—with 36.9% of its assets in the top ten.
Currently, the fund has high exposure to the industrial, at 23%, and consumer defensive, at 20%, sectors. This makes it more balanced and defensive than the SPDR S&P 500 Trust ETF (or SPY). SPY has a high weighting towards technology at 19.30%.
VIG's portfolio consists of financially superior companies. The companies can weather market downturns and recessions. They've performed well in the financial crisis. VIG is a hedge fund favorite because it includes defensive stocks that lower risk when rates tighten and high beta stocks sell off.
Top hedge funds with VIG in their 2Q14 portfolios were North American Management, Condor Capital, Mariner Wealth Advisors, Millennium Management, and Berkshire Asset Management.
Article continues below advertisement
The above charts show that VIG outperformed SPY in 2008. This was mainly due to the financial strength of the firms in its portfolio. Since then, it underperformed SPY. This chart is a price ratios chart. It's adjusted for dividends. A rising line means VIG is outperforming. In contrast, a falling line means it is under performing.
In the next part of the series, we'll discuss why emerging markets ETFs were hedge fund favorites in the second quarter.