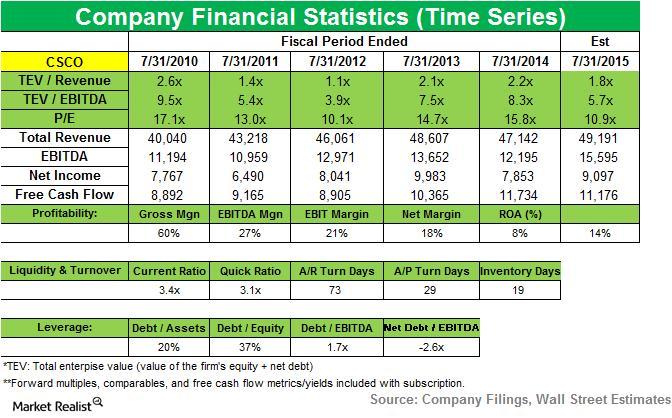 Why Bridgewater Associates decreased its position in Cisco
By Patricia Garner

Nov. 26 2019, Updated 3:00 p.m. ET
Bridgewater Associates and Cisco
Bridgewater Associates' new positions in 2Q14 include Coca-Cola Co. (KO) and Bed, Bath & Beyond Inc. (BBBY). Positions sold include Perrigo Co. Plc. (PRGO), Priceline Group Inc. (PCLN), and Monsanto Co. (MON). The fund increased its position in Juniper Networks (JNPR). It decreased its stake in Symantec Corp. (SYMC), Cisco Systems Inc. (CSCO), and Las Vegas Sands Corp. (LVS).
The $13.34 billion portfolio includes exchange-traded funds (or ETFs) that have the largest positions. The rest of the positions are smaller.
Bridgewater Associates decreased its position in Cisco from 0.20% in the 1Q portfolio to 0.09% in the fund's 2Q portfolio.
Company overview
Article continues below advertisement
CSCO is based in California. It designs, manufactures, and sells Internet Protocol (IP)-based networking and other products related to the communications and information technology (or IT) industry. It also provides services associated with these products. Recently, the company has seen weak results and lower-than-expected forecasts due to macroeconomic factors and challenges in emerging markets—like China.
The company conducts its business globally. It manages the business by geography. Cisco's business is organized into the following three geographic segments:
The Americas
Europe, Middle East, and Africa (or EMEA)
Asia Pacific, Japan, and China (or APJC)
The networking giant has a broad customer base that includes virtually all types of public and private entities—including enterprise businesses, service providers, and commercial customers.
Financial highlights
Despite revenue and earnings per share (or EPS) meeting street expectations, Cisco's fiscal second quarter revenue fell 8% to $11.2 billion. Net income declined 55% to $1.4 billion, or $0.27 per share. Gross profit margins were 53%—down from 61% a year ago. The net income included a pretax charge of $655 million. The charge was related to the expected remediation cost of issues with memory components in certain products sold in prior fiscal years.
Article continues below advertisement
In the 1Q14, revenue increased slightly by 1.8% to $12.1 billion. Net income was $2 billion, or $0.37 per share. Shares plunged in November after Cisco issued a bleak outlook for 2Q14 on the back of emerging market weakness and cautious enterprise technology spending in its developed markets. Cisco's fiscal 1Q14 earnings were impacted by emerging market "challenges" and the U.S. government shutdown.
Struggling in the emerging market
Cisco's emerging market woes continued from the previous quarter with orders falling 3% year-over-year (or YoY). In the fiscal 1Q14, the networking giant saw a sharp decline in orders in China, Brazil, Mexico, India, and Russia.
Cisco is losing market shares in China. It's losing shares to China-based Huawei Technologies—the world's second largest network equipment supplier—and ZTE. News reports noted that Cisco might also be seeing retaliation of a U.S. ban on the sale of Chinese-made equipment to wireless carriers over security concerns.
Segment results
In terms of segments, the company saw an impact from its product transitions in its core business as customers shift to Network Convergence Systems (or NCS) 6000 and CRS-X routers. NCS is billed as the "Internet of Everything" router. Switching revenue fell 12% YoY to $3.27 billion with orders down 6%. NGN routing revenue declined 11% YoY to $1.74 billion with orders down 5%.
Cisco's data center business revenue was up 10% YoY to $605 million. However, it was below street consensus. Wireless revenue fell 4% to $511 million in the second quarter. It grew 8% in the fiscal 1Q14. Collaboration revenues fell 7% to $881 million. There was a decline of 9% YoY in unified communications. Cisco was expected to announce a product refresh with high-quality video. Cisco's service revenue grew by 3% in the first two quarters of 2014. It was driven by strong growth in subscription revenues.
To learn more about Cisco's performance, visit Business overview: A must-know investors guide to Cisco.
The next part of the series, we'll discuss Bridgewater's position in Las Vegas Sands Group.