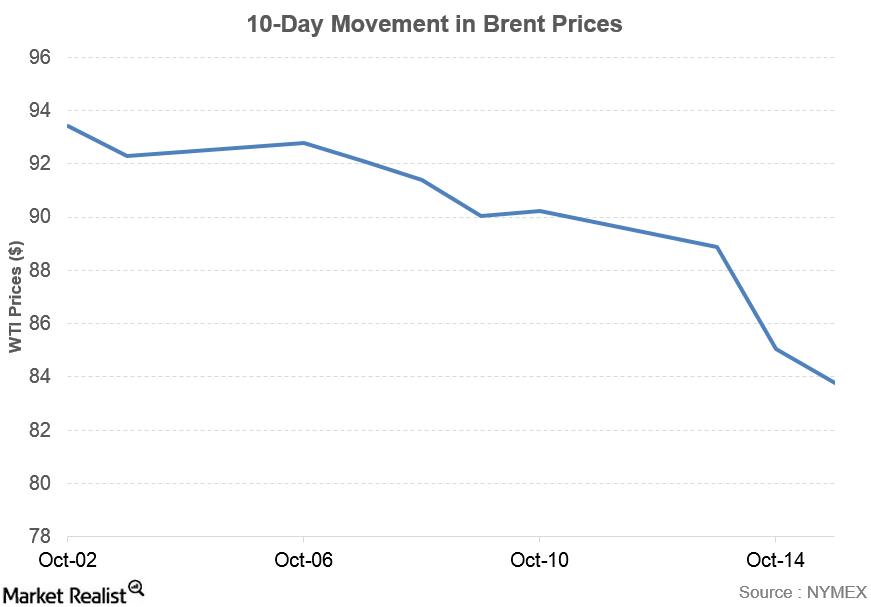 Why Brent pays the price for Saudi's "generosity"
Brent prices
Brent prices are similar to West Texas Intermediate (or WTI) oil prices. Brent prices declined quickly last week.
Prices were at their lowest levels since November 2010. The price decrease was a result of over supplied markets and surging U.S. and Organization of Petroleum Exporting Companies (or OPEC) production—especially in Libya and Iraq.
The sharper drop in Brent prices also caused the WTI-Brent spread to fall to $2 on Wednesday.
Saudi's price cut
While oil prices decreased quickly, Saudi Arabia responded to the decreased prices. Saudi Arabia is the world's largest oil exporter. It cut its official selling prices, instead of cutting production.
The move probably implies that OPEC members' bigger mission isn't to stabilize prices. Instead, they want to win or maintain the market share.
Iran and Kuwait have also slashed selling prices—in a bid to maintain market shares. Iran announced that it would sell oil to Asia. In November, it will sell the oil at the biggest discount in six years.
Another theory is that Saudi Arabia is deliberately trying to pressure high cost producers—U.S. production—to slow their development. It's in an effort to provide stronger support to future crude prices.
However, the International Energy Agency (or IEA) believes that U.S. producers will need to see deeper drops in prices before they start curbing production.
Who's benefiting?
B. Ashok is the chairman of Indian Oil Corp. He said that "What's happening in the market is good for big Middle-East customers like us."
In an effort to win back market share and let prices fall more, the Asian markets are benefiting from the cheap oil.
It remains to be seen how "low" OPEC will let the prices go.
Who's losing?
The price drop made U.S. producers anxious even though they're already bogged down by a well-supplied domestic market. This has kept WTI prices at a steep discount to Brent for a while now.
Producers include Pioneer Resources (PXD), Chevron Corp. (CVX), ConocoPhillips (COP), and Anadarko Petroleum (APC). All of these companies are part of the Energy Select Sector SPDR ETF (XLE).
In the next part of the series, we'll discuss what these companies are facing.
Article continues below advertisement