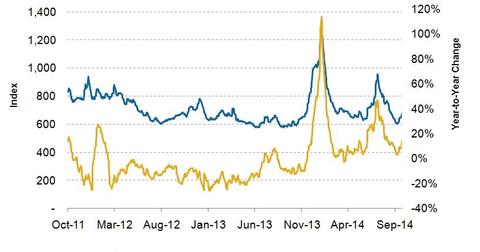 Why the Baltic Dirty Tanker Index is going south
By Katie Dale

Updated
Baltic Dirty Tanker Index
Analysts and money managers follow the Baltic Dirty Tanker Index to assess the crude oil shipping industry's revenue and earnings potential. How the Baltic Dirty Tanker Index performs, especially its year-over-year (or YoY) growth, is one factor that has significant implications for companies like Tsakos Energy Navigation Ltd. (TNP), Frontline Ltd. (FRO), Teekay Tankers Ltd. (TNK), Nordic American Tanker Ltd. (NAT), and the Guggenheim Shipping ETF (SEA).
September decline
Article continues below advertisement
The Baltic Dirty Tanker Index recorded a marginal rise to 678 on October 10, 2014. It was 639 at the beginning of the month. In September, the Index recorded a decrease of 70 basis points—from 693 to 623 at the beginning of the month. However, the downtrend reversed. The Index recorded gains since the beginning of October. The crude tanker market began to pick up again.
Crude tanker owners and industry analysts are estimating a bounce-back in the market. This is based on higher refinery runs that are predicted for the fourth quarter. An average increase of 1.5 million barrels per day (or bpd) is expected.
Outlook
With VLCC, Suezmax, and Aframax earnings recovering and the crude tanker market improving, industry stocks and the SEA could be impacted positively. Also, on a YoY basis, the Index is up by 15.5%—compared to October 2013.
Click here to learn more about the Baltic Dirty Tanker Index.