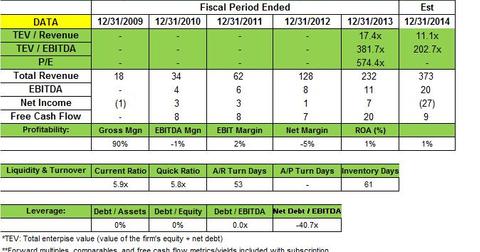 Why AQR Capital exits its position in Tableau Software Inc.
By Patricia Garner

Updated
AQR Capital and Tableau Software Inc.
AQR Capital Management added new positions in AstraZeneca (AZN), Navient Corp. (NAVI), and Equinix (EQIX). It sold positions in Tableau Software Inc. (DATA) and Geo Group Inc. (or GEO). AQR increased positions in Apple (or AAPL) and DIRECTV (DTV).

AQR Capital sold a position in Tableau Software Inc. in 2Q14. The company accounted for a 0.0346% position in the fund's first quarter U.S. long portfolio.
Company profile
Tableau Software Inc. provides software products that help people see and understand data. It offers software products including Tableau Desktop, Tableau Server, Tableau Online, and Tableau Public.
Revenues boosted, but net losses widened

Article continues below advertisement
Total revenues for the second quarter were up 82%—compared to 2Q13. License revenue saw an increase of 80%—compared to the same quarter last year. Generally accepted accounting principles (or GAAP) operating loss for 2Q14 was $4.1 million—compared to a GAAP operating loss of $2.3 million for 2Q13. GAAP net loss for 2Q14 was $4.6 million, or $0.07 per diluted common share—compared to a GAAP net loss of $2.6 million, or $0.05 per diluted common share for 2Q13.
Notable achievements
Tableau launched Tableau 8.2. It brought Tableau to the Mac. It brought storytelling to everyone with a new Story Points feature. Tableau closed 157 sales orders greater than $100,000. It added over 2,200 new customer accounts in 2Q14. It's international revenues were up more than 100% compared the same quarter last year. It held four regional Tableau Conferences in Sydney, The Hague, Munich, and London. It had over 1,000 customer and partner attendees in total.
Expansion of Tableau's OEM partner program
Article continues below advertisement
Seven new valued partners including Premier Inc., Redzone, Vocera Communications, CI&T, LeanKit, N2N, and PostUp partnered with Tableau's original equipment manufacturer (or OEM) partner program. By partnering with Tableau, these independent software vendors (or ISVs) and Software-as-a-Service (or SaaS) providers gained the ability to integrate, co-brand, and embed Tableau's powerful, flexible, cost-effective, and easy to use data visualization software into their own products.
DecisionOne selected Tableau for data-driven insights into customer service events
DecisionOne partnered with Tableau to help make data-driven decisions and better serve its customers. It's one of the largest independent technology support organizations in North America. Its technician teams and customer service representatives work on more than 35,000 service events every month. They work on more than 1,000 service events every day. Using Tableau, DecisionOne is analyzing data on each of these service events. It wants to cut down on the time it takes to fulfill each request. It also wants to operate more effectively.
In the next  part of the series, we'll discuss why AQR sold its stake in GEO Group Inc.