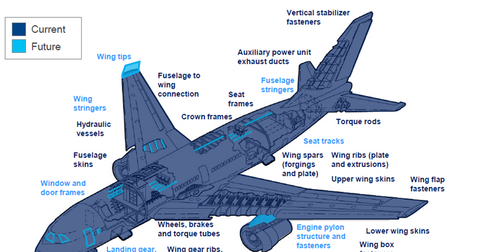 Why Alcoa's aerospace revenues are going to increase
By Mohit Oberoi, CFA

Oct. 3 2014, Updated 9:00 p.m. ET
Alcoa's aerospace segment
Globally, the aerospace segment is the one of the biggest aluminum consumers. The aerospace segment is important for Alcoa. The aluminum industry is plagued with a massive inventory. It's important to note that there's a nine-year production backlog for the large commercial aircraft segment.
Alcoa in aircraft
The chart above shows the various components in an aircraft. It highlights that parts that Alcoa produces. Alcoa is also developing components for the future. This is expected to drive Alcoa's future revenues and profits. There have been some recent developments in this side of Alcoa's business. This will help Alcoa increase its revenue share from the aerospace segment. The developments include:
Article continues below advertisement
Alcoa announced the acquisition of Firth Rixson

.

 Firth Rixson is a leading jet engine component manufacturer. Alcoa acquired it for $ 2.85 billion. This deal will enhance Alcoa's dominant position in the aerospace industry. This deal is expected to increase Alcoa's aerospace industry revenues by almost 20%.
Recently, Alcoa signed a $1 billion contract with Boeing. Alcoa will supply aluminum sheet and plate products. Alcoa will work closely with Boeing to develop new aerospace alloys—including aluminum-lithium—for complex structural applications.
These actions are expected to drive Alcoa's earnings from the aerospace industry. The automobile industry is another key segment for Alcoa. In the next part of the series, we'll discuss how this segment is expected to contribute to Alcoa's earnings.
Aluminum acts as a key raw material for the aerospace, transportation, and packaging industries. The developments in these end industries are a key driver for aluminum companies like Alcoa (AA), Century Aluminum (CENX), Rio Tinto (RIO), and Constellium (CSTM). Alcoa is part of the SPDR S&P Metals and Mining ETF (XME).