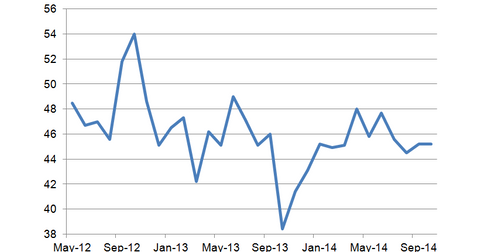 Understanding the key to consumer confidence for homebuilders
By Brent Nyitray, CFA, MBA

Oct. 10 2014, Updated 3:01 p.m. ET
The Investor's Business Daily/TechnoMetrica Optimism Index is considered a preview of the upcoming consumer confidence indices
The Investor's Business Daily/TechnoMetrica Optimism Index has a good track record of predicting how the two major consumer confidence indices—the Conference Board and the University of Michigan Consumer Confidence indices—will look when they're released later in the month. The IBD/TIPP Index was conducted from a poll of 889 adults in the last week of September.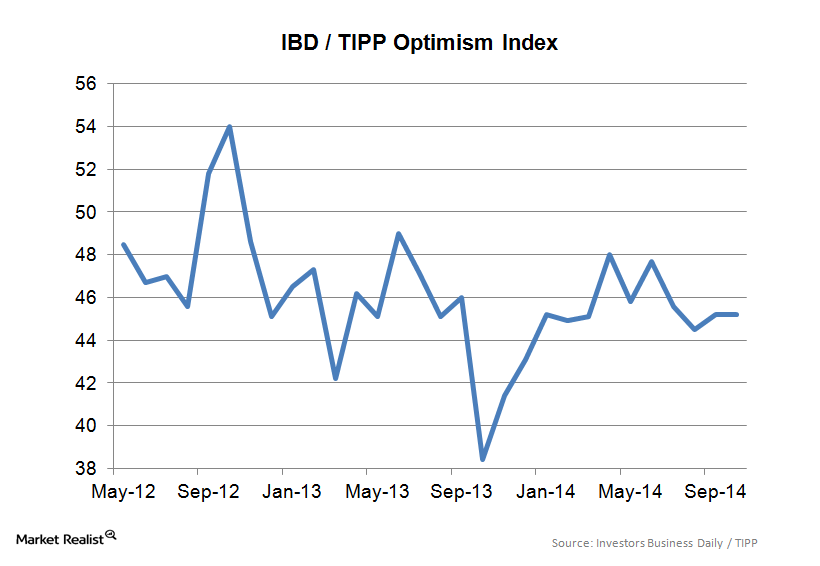 The index has three major components: the six-month economic outlook, the six-month personal financial outlook, and confidence in Federal policies.
Consumption is the major driver of the U.S. economy. It accounts for 70% of GDP. Consumption has been relatively subdued since the recession began, as Americans have boosted their savings rate and spent only on essentials.
Article continues below advertisement
The real estate bubble drove consumption in the mid '00s as people took out cash refinances and spent the extracted home equity. This increased the cost basis for many people's homes and left them vulnerable when house prices collapsed. As a result, they've focused more on paying down debt than on spending.
Highlights from the report
The IBD/TIPP Optimism Index was flat at 45.2. It's just slightly above its 12-month average. A reading below 50 indicates pessimism.
The six-month economic outlook increased from 42.8 to 44.6.
The personal financial outlook dropped 2 points to 52.5.
Finally, confidence in the government continues to scrape the bottom of the barrel, coming in at 38.5. Overall, Americans have little faith in government.
Implications for homebuilders
Buying a home—particularly a new home—requires a great deal of confidence in the future. Indeed, KB Home (KBH) said that consumer confidence is even more important than interest rates. Homebuilders need consumers to be comfortable in their personal situation, the economy, and the future of home prices. The index shows that people are more confident in their own situation than they are in the economy in general.
Most of the builders that have reported earnings already—Lennar (LEN), PulteGroup (PHM), D.R. Horton (DHI), and Standard Pacific (SPF)—are generally bullish on the housing market but sense caution from the homebuyer. This could be due to the fact that house prices have risen quite a bit already and interest rates have moved up to a new level.
In order to make the quantum leap from 1 million housing starts a year to normalcy, which is around 1.5 million units a year, we have to see a stronger labor market. That's the key to consumer confidence.